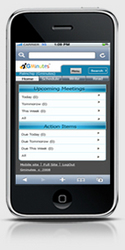 "What is even greater about GMinutes, is that it is accessible from anywhere around the world, and while on the go,"
Santa Clara, Calif. (PRWEB) December 22, 2009
GMinutes, which provides paperless meeting minutes management and action items tracking, announces today, an iPhone Web application. GMinutes' iPhone Web application allows users to schedule meetings, write meeting minutes, assign action items, and read meeting minutes on the go. You can access GMinutes for the iPhone by going to http://www.gminutes.com/iphone.
According to Palmchip CEO, Jauher Zaidi, "The GMinutes team is always trying to increase team accountability and productivity for organizations with global design centers by enabling them to have 24 hour work days, and this new iPhone Web application will make this increasingly possible."
Continuing with the theme of efficiency, GMinutes' advanced search feature is a time saving tool, used to helps users find past meetings in seconds rather than in hours or days. You can search by user name, group, or by company.
Along with automating meeting minutes and increasing accountability and productivity while simultaneously reducing operational costs, GMinutes also aids organizations in reducing its paper trail, effectively making GMinutes a green application. This will provide organizations with a greener work environment that helps reduce their carbon footprint.
Making your meetings productive is as easy as opening an account, creating a meeting space, adding relevant people to it, and assigning action items. What is even greater about GMinutes, is that it is accessible from anywhere around the world, and while on the go," said Mike Kaskowitz, Managing Director of Infinitedge.
For more information on GMinutes or the iPhone Web application; please visit http://www.GMinutes.com and download a free white paper.
Watch this video for more information on the GMinutes iPhone Web Application:
http://www.youtube.com/watch?v=YyCyNHGdk8s
About Palmchip:
Founded in 1996, Palmchip Corporation is a global leader in connected and secure technologies. Palmchip provides hardware, software IP, and design services to its clients in the U.S., Europe, and worldwide. Please visit http://www.Palmchip.com.
GMinutes Software Group develops and markets Cloud Computing applications (SAAS), which runs on the iPhone, Blackberry, & Android mobile phones, which can be accessed anytime from anywhere. Please visit http://www.GMinutes.com for more information.
# # #