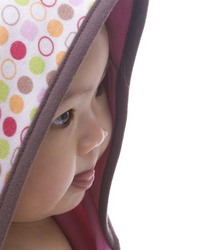 "By incorporating positive phrases like "be respectful" on the shirts, we hope to help raise people's awareness towards caring for ourselves, others and the world."
Los Angeles, CA (PRWEB) November 27, 2009
Green Sproutlets, a hip, contemporary, eco-friendly children's clothing company announces their first collection called "Retro-Polka" Collection. The line consists of beanies, bibs, burp cloths, hooded blankets, kimono bodysuits, tees and pants. Retail prices range from $26 to $44. The graphic patterns use bright, bold, fun colors that depict the personalities of our children. The fabrics are 70% Viscose from Bamboo, 30% Organic Cotton and 70% Viscose from Bamboo, 25% Organic Cotton, 5% Spandex blends for softness, substance and flexibility. All dyes used are low-impact and the inks are water-based. Safe for the environment. Safe for the children.
About Viscose from Bamboo
Bamboo as a fabric is naturally anti-bacterial, anti-fungal, hypoallergenic, very breathable and very absorbent as opposed to conventional fabrics. It also has UV protection that is very important especially now a days.*
About Bamboo Plant
Bamboo as a plant is one of the fastest growing plants in the world. Bamboo does not require fertilizers, pesticides or insecticides to grow and it does not require too much water, unlike conventional cotton. Bamboo plant is actually a type of grass and it is 100% biodegradable, according to experts. Bamboo plant reaches maturity in just 4 years making it sustainable and it produces 35% more oxygen than trees.*
About Green Sproutlets
Green Sproutlets is a web-based infant and toddler apparel store that caters to environmentally and socially responsible consumers to consumers that just like hip, unique, contemporary designs and everybody in between. As the name suggests, their focus is to provide eco-friendly ("green") children's apparel and accessories to our precious little ones ("sproutlets").
Green Sproutlets' intentions are to provide a variety of eco-friendly infant and toddler apparel and to promote eco-consciousness to mothers and others who care about the environment and the health of the children. To promote positivity with their clean and wholesome graphic designs and inspirational phrases without imposing the usual "attitudes" (i.e. shirts with "I'm Spoiled" phrases) that are seen in today's marketplace.
Green Sproutlets will continue to search for other eco-friendly, sustainable fabrics and introduce them together with new products our sproutlets and mommies will truly love.
Ordering Information
Green Sproutlets sells all products 24/7 in their online store, http://www.GreenSproutlets.com and through Sales reps within the US.
For West Coast Wholesale Inquiries, please contact our Sales Rep:
Thea Showroom
Brandi Bartels
110 E. 9th Street B698,
Los Angeles, CA 90079
213.471.2212 ofc
213.341.1100 fax
For other Wholesale Inquiries, please contact us at:
Green Sproutlets
1.909.595.1319 ofc
1.909.595.6460 fax
*bambrotex.com
###