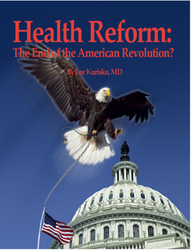 Once you finish this book, you will see why you do not want to entrust your son, wife, mother, or anyone to a health care system with more government control such as they have in Canada.
Minneapolis, MN (PRWEB) December 14, 2009
Lee Kurisko, a diagnostic radiologist from Minnesota, warns Americans not to sell out their liberty for the false promises of government-run health care, such as he experienced in his Canadian homeland where he served as director of diagnostic imaging for Thunder Bay Regional Hospital.
In his timely new book, Health Reform: The End of the American Revolution?, Kurisko gives overwhelming evidence why expansion of federal government control over private health care is a threat to human freedom and increases health care costs while reducing quality of care. Kurisko documents his experiences in Canada where antiquated equipment, physician shortages, bureaucratic nonsense and long waiting lines that threatened the health and lives of his patients, lead him to conclude that government-run health care is the "worst kind of immorality."
Before leaving Canada for the United States in 2001, Kurisko became a student of economics, especially free market economics. From that perspective, he explores the economics of health care and gives common sense solutions for controlling health care costs while preserving the free market economy and personal freedom.
As the U.S. Congress moves toward government-run health care, Kurisko shares what America can learn from Canada in his writings and speeches before citizens forums, physicians and health care practitioners, and business and political groups.
For more information, contact Barb Ernster, publicist, 763-502-0792 or 612-419-7677 (cell), barbernster(at)comcast(dot)net.
Health Reform: The End of the American Revolution? (Alethos Press, ©2009) is available for $29.95 at http://www.alethospress.com or at Amazon.com.
###