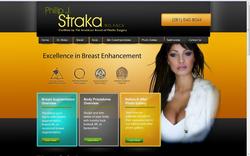 Humble, TX (Vocus) July 21, 2009
Of the more than 10.2 million cosmetic procedures performed in the U.S. in 2008, both surgical and non-surgical, nearly 355,700 of them were breast augmentation procedures. These statistics, compiled by the American Society for Aesthetic Plastic Surgery, reflect that for the first time, breast augmentation has now out-performed liposuction as the top surgical cosmetic enhancement procedure after several years of liposuction's dominance. Dr. Philip J. Straka, a Houston breast augmentation surgeon, makes breast enhancement procedures a central focus of his practice. In fact, Dr. Straka served as one of the principle investigators in both the Alergan/Inamed and Mentor silicone gel breast implant studies, which were commissioned by the U.S. Food and Drug Administration. Silicone breast implants were approved by the FDA in 2006 after 14 years years of study.
Dr. Straka has a strong reputation as a skilled breast surgeon. For his Houston plastic surgery patients who decide to recontour their breasts with implants, Dr. Straka customizes each procedure to the individual patient, and discusses in detail the benefits of either saline or silicone breast implants with each patient to ultimately determine which type of implant will best-suit their goals. Dr. Straka uses advanced techniques on patients that allow him to utilize short incisions, resulting in an easier recovery and less visible scarring from the procedure. He says breast augmentation is not only a way to effectively add volume to the breasts for patients who want to have a fuller bustline, but the procedure also creates breasts that are more proportionate to an individual's body frame, which can be particularly beneficial to a woman who has suffered self-esteem issues with her appearance.
Dr. Straka says one of the questions he is most often asked is whether the better option is silicone over saline implants. He advises patients that both implants can help the patient achieve her goals, but that silicone implants have a softer, more natural feel – and they have been proven safe by years of rigorous study and new approval by the FDA. However, Dr. Straka says saline implants also have advantages, including the creation of shorter incisions to place them and a lower rate of capsular contracture (internal scar tissue forming around the implant).
During his initial consultation, Dr. Straka says he counsels patients on all aspects of the procedure, including all risks and benefits, and helps them go through implant sizes and types to determine what would best meet their expectations.
About Philip J. Straka, MD
Dr. Philip J. Straka is known throughout the region for his work in the areas of breast augmentation, abdominoplasty, and liposuction surgery. He is board-certified by the American Board of Plastic Surgery, and is a member of the American Society for Aesthetic Plastic Surgery and the American Society of Plastic Surgeons. Dr. Straka has also been named a Fellow of The American College of Surgeons. In addition to comprehensive cosmetic surgery and body contouring procedures, Dr. Straka oversees a full-service medi-spa offering injectable facial treatments and non-invasive skin rejuvenation.
For more information on breast implants in Houston, Texas, Dr. Philip J. Straka can be reached at his Kingwood/Humble Office at 9810 FM 1960 East, Suite 165, Humble, Texas 77338 – (281) 540-8044; or via his website at http://www.drstraka.com.
# # #