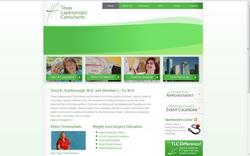 The incision is placed in the umbilicus to truly hide the incision. Sometimes for bands we place it where the band port is located. The main advantage is for cosmetics as traditional laparoscopic surgeries have anywhere from 5-6 incisions.
Houston, TX (Vocus) August 11, 2009
Of the estimated 11 million people in the U.S. who are considered morbidly obese – weighing 80 to 100 pounds above the average body weight – thousands of them seek out weight loss surgery each year to help them turn their lives around. Traditional surgical techniques can often result in significant scarring in the abdominal region, which can be off-putting for patients considering surgical obesity treatment. However, two bariatric weight loss surgeons in Houston are offering a new technique which can make recovery more comfortable and scarring virtually unnoticeable. This technique completes major surgical procedures with only one, tiny incision.
Single-incision laparoscopic surgery at Texas Laparoscopic Consultants uses small surgical instruments and a tiny camera to perform major weight loss procedures. The incision is typically made in the area of the belly button and is anywhere from two to five centimeters in diameter, without the need for multiple small incisions spread out throughout the abdominal wall that are made in traditional laparoscopic surgery. The practice is the first in Houston to utilize the technique as a standard for major bariatric surgery procedures, such as adjustable gastric banding, and Dr. Sherman Yu says it has many advantages over traditional techniques. "The incision is placed in the umbilicus to truly hide the incision. Sometimes for bands we place it where the band port is located. The main advantage is for cosmetics as traditional laparoscopic surgeries have anywhere from 5-6 incisions."
The practice's two bariatric surgeons, Dr. Yu and Dr. Terry Scarborough have been performing laparoscopic surgery on morbidly obese patients for years, and they say that for patients considering weight loss surgery procedures such as gastric sleeve and the LAP-BAND® System in Houston, single-incision techniques are the wave of the future. "We have performed over 100 now and it is part of our standard technique for bands and sleeves. This is unique because often other surgeons are either just learning the basic technique, while we have advanced on to the next phase of minimally invasive surgery."
Texas Laparoscopic Consultants was the first practice to perform single-incision LAP-BAND® System and [REALIZE® Band surgery in Houston]. These procedures are designed to help morbidly obese patients by creating a smaller stomach chamber that takes in less food, giving patients an earlier feeling of fullness and helping them effectively shed large amounts of excess weight. The bands can also be adjusted or removed at any time to allow more or less food into the stomach chamber. In addition to these popular weight loss surgery procedures, Dr. Scarborough and Dr. Yu were also the first to perform single-incision gastric sleeve surgery in Houston. This procedure offers more rapid weight loss than the adjustable gastric band, similar to the gastric bypass. Gastric sleeve, or sleeve gastrectomy surgery, actually removes about 60-70% of the stomach and the remainder is restructured to form a tube shape, helping patients feel full after eating much less food.
Doctors at Texas Laparoscopic Consultants say that with bariatric surgery, patients can not only lose weight and feel better about their appearance, they can also greatly reduce the risk of severe health problems brought on by morbid obesity - which include heart disease, diabetes, stroke, high blood pressure, and many others. And with single-incision laparoscopic surgery, patients are being given even more advantages with a more comfortable recovery process and less visible scarring. "First and foremost, we believe in providing our patients with the safest surgery possible. Then we try and do the surgery as minimally invasive as possible because we believe that will reduce post-operative pain and recovery time. If we can do everything through just one incision, often hiding it in the belly button, then our patients have the best cosmetic outcome possible too. To us, the patient comes first and we feel we provide them with the best of all worlds with our single-incision laparoscopic surgery procedures."
About Texas Laparoscopic Consultants
Texas Laparoscopic Consultants has been designated a "Center of Excellence" by the American Society of Bariatric Surgery, an honor that can only be claimed by one out of 303 bariatric surgery centers in the nation. Dr. Terry Scarborough and Dr. Sherman Yu are certified by the American Board of Surgery and have performed more than 1500 laparoscopic weight loss surgery procedures since 2002. They employ a team approach for major procedures to provide patients with two experienced surgeons for the safest, most effective care possible.
For more information on single-incision weight loss surgery at Texas Laparoscopic Consultants, the practice can be reached at 1200 Binz. Suite 950, Houston, TX 77004 – (713) 493-7700, or via http://www.tlcsurgery.com.
###