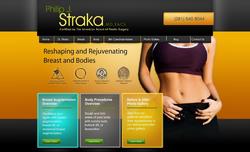 Humble, TX (Vocus) October 16, 2009
The recession may be hitting a large number of economic sectors, but one area plastic surgeon says its effects are not as readily apparent on the numbers of people who undergo certain aesthetic enhancement procedures. In fact, Dr. Philip Straka, the director of a Houston plastic surgery practice, says procedures such as breast augmentation with implants seem to be more popular than ever.
Earlier this year, the American Society for Aesthetic Plastic Surgery released the results of a study conducted to determine recent levels of surgical and non-surgical aesthetic enhancement procedures performed in the United States. The survey found a 162 percent increase in procedures since the first study was performed in 1997. More than 10.2 million people, both men and women, had some type of cosmetic enhancement last year in the U.S. alone. The study indicated the number-one surgical enhancement procedure was breast augmentation, followed by liposuction. On the non-surgical front, the top procedure was BOTOX® Cosmetic. Dr. Straka says, particularly with breast augmentation in Houston, the rough economic climate does not seem to be preventing many individuals from considering visiting a plastic surgeon or an aesthetician to enhance their appearance.
The reason for this may be due to the fact that many patients see aesthetic enhancement as a need, rather than a desire. Many procedures are designed to address perceived imperfections that the patient may have been self-conscious about for a very long time, and many address the common issues everyone faces as they age – such as wrinkling, skin damage, fat deposits, and sagginess of the skin. Plus, Dr. Straka says that procedures such as liposuction and tummy tuck surgery in Houston help patients attain a tighter, more fit-looking physique when rigorous diet and exercise can't get rid of extra fat and skin that can accumulate over time. Many of these options can ultimately fulfill a psychological, as well as physiological need, which may account for the steadiness of aesthetic enhancement procedures performed even during a period of harsh economic times.
Dr. Straka also says there are a number of less-invasive procedures designed to give patients effective aesthetic results that are ideal for the budget-conscious and those who do not want to experience longer recovery periods. Facial skin peels, injectable dermal fillers, and BOTOX® injections are some of the most popular cosmetic procedures available and give patients less expensive alternatives to procedures with results that may last longer, but are considered major surgery. Patients can also take advantage of financing options offered through Dr. Straka's practice that, for qualified applicants, can provide them with low-interest payment plans to help them attain aesthetic, and even functional, benefits while meeting their budget needs.
Dr. Straka says even though the times are hard, people still want to look and feel the best they can about themselves, and aesthetic enhancement can not only be a great way to achieve that, but it can also be an affordable means of doing it.
About Philip J. Straka, MD
Dr. Philip J. Straka is certified by the American Board of Plastic Surgery, and is a member of the American Society of Plastic Surgeons and the American Society for Aesthetic Plastic Surgery. He is also a Fellow of The American College of Surgeons, and he served as a Principle Investigator in the Mentor and Allergan Silicone Gel Breast Implant Studies commissioned by the FDA. Dr. Straka runs a comprehensive plastic surgery practice devoted to breast enhancement and body contouring, as well as a full-service medi-spa offering non-invasive skin rejuvenation and injectable facial treatments.
Dr. Philip J. Straka and his surgical and non-surgical aesthetic enhancement practice can be reached at his Kingwood/Humble Office at 9810 FM 1960 East, Suite 165, Humble, Texas 77338 – (281) 540-8044; or through his website at http://www.drstraka.com.
# # #