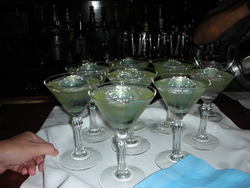 It completely changes the cocktail experience
Atlanta (Vocus) December 11, 2009
When the biggest and most powerful names in the beverage industry gather in Miami for their premiere annual trends confab—The Cheers Beverage Conference—The Ice Ball will be the center of attention in many of the cocktails served.
Ice Caters is driving demand for a variety of pure ice products in various shapes and sizes that come already made in a box ready to use, but none has caught the eye as dramatically as the smallest and simplest one—a two and half inch clear sphere of cocktail ice.
"It completely changes the cocktail experience," said Ice Caters CEO, Michael Shoer. "The clarity, the size and the perfection mean that it not only looks cool, but it chills the drink without diluting the taste."
The Cheers Beverage conference attracts the top beverage directors from the leading national, regional restaurant and hotel chains, nightclub and bar concepts, casinos and cruise ships, and multi-concept independents. Every major brand in the beer, wine and spirits world is represented, Coca Cola, Bacardi, Beam Global, Brown-Forman, Diageo, Crown Imports, Moet Hennessey, Patron, Pernod Ricard USA …and this year, Ice Caters joins them front and center.
Within the past year, the Ice Caters Ice Ball was featured on the cover of In the Mix Magazine, and has been making a splash in drinks at bars and events from coast to coast, including most recently at Saks Fifth Avenue hosted events for the lighting of the Christmas Tree at Rockefeller Center, and in Atlanta at VIP tastings of Van Gogh Vodka's Blue.
"Someday everyone will be picking up a box of ice balls at the liquor or grocery store," said Shoer, "It's only a matter of time until customers tell Reddy Ice, Arctic Glacier or Home City—the real big ice companies-- that the cube is out and the ball is in!"
Until then, the commercial buyers Commercial Buyers are already convinced and the Ice Ball is popping up on beverage, bar and event menus. Ice Balls can be ordered from Ice Caters for next day air shipping anywhere in North America.
Ice Caters LLC (http://www.icecaters.com) is an Atlanta-based private company that markets manufactured packaged ice designs primarily to commercial buyers and resellers nationwide through regional distribution hubs and local ice companies under the brands Ice Caters® Ice and Easy®, Brand ICE™, and offers custom event installations and traditional ice supplies under the BIG Event Network™ and Ice ONE Source™.
For Product information, please contact Customer Care at 888-464-3838
Investor Relations, Please contact Jules Segal.
###