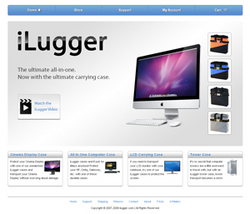 Saint Louis, MO (PRWEB) December 1, 2009
After a complete overhaul of their website, iLugger.com has created a site that is much more user friendly. Customers can find what they're looking for in fewer clicks. With the influx of more all-in-one computer models, iLugger made finding the right case easier. The cases are categorized by the size of computer it fits as well as the model of computer. This change was done to enable customers to find the right case even for a model that is not yet been listed on the site.
The updated site is easier to navigate and customers can still expect the same great service they received before. International shipping is still supported from our US or UK based warehouses as well as offering currency conversion into the canadian dollar, the pound or the euro. iLugger's customer service team is always ready to answer any question or to assist with any purchase. Please visit http://www.ilugger.com and let us know what you think!
###