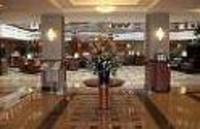 If we can put a man on the moon, why then can't we offer unlimited broadband to our guests that doesn't degrade as usage rises? Think of our offering as our commitment to the members of this community to
Dulles/Ashburn, VA (Vocus) July 15, 2009
The Embassy Suites Dulles North, located just off Waxpool Road has earned the bragging rights for having the world's fastest Internet connectivity. During last night's "Giant Leap Launch" ceremony, the hotel in conjunction with Network Strategies, Inc. took their guests to the next generation of Internet "travel".
Through a unique partnership with Network Strategies, Inc., the Embassy Suites Dulles North affords lightning-fast Internet thus enabling guests to perform data-hogging uploads or downloads in a FLASH! By comparison to standard hotel Internet offerings, the Embassy Suites Dulles North/Loudoun's Internet connection speed is approximately 130 times faster than the ordinary hotel!
During the Giant Leap Launch attendees saw the irrefutable truth that the installation of "liquid bandwidth" affords users unlimited and non-degradable Internet connection. The Embassy Suites hotel's "super-fast" liquid bandwidth (also known as Atrium WiFi to all guests who boot up computers in the lobby) accomplished this by performing three data-hogging tasks simultaneously: 1) live Internet game playing; 2) live webinar broadcast and 3) movie downloads. While performing these three tasks simultaneously without degradation, the Embassy Suites hotel's FREE Atrium WiFi also competed against two other Internet connection options: A) the fastest advanced network card and B) the typical hotel Internet service (802.11a/b). Meanwhile, the sole task for the competitive connections downloaded the same movie that the Embassy Suites hotel's Atrium WiFi was downloading. Attendees saw first-hand why Embassy Suites Dulles North is the world's fastest "hot" spot.
With incomparable download speed, Network Strategies, Inc hosted an Internet Café' with useful tips, guests watched Emmy Award winning video vignettes from Loudoun Convention & Visitor's Bureau, sampled wines from Corcoran Vineyards, and enjoyed gaming, fun, and food fit for all ages.
"If we can put a man on the moon, why then can't we offer unlimited broadband to our guests that doesn't degrade as usage rises? Think of our offering as our commitment to the members of this community to "help keep you connected," said Greg Miller, spokesperson for the Embassy Suites Dulles North. "From guest feedback over the past year, we know that fast and reliable Internet connectivity is an extremely valuable amenity - particularly connections that do not diminish with traffic. We are excited to offer travelers and locals something that cannot be matched anywhere else in the world."
Each day, the number of video applications requiring fast broadband response is skyrocketing. Accessing popular sites such as YouTube® and Hulu® and downloading from these sites is slow and painful using a hotel's typical service. And, bad goes to worse when trying to perform downloads via wireless (Wi-Fi) connections. The Embassy Suites hotel, located in the heart of tech-savvy Northern Virginia, is the first hotel to roll out new super-speeds throughout its public areas. Best of all, the Embassy Suites Dulles North's "Atrium Wi-Fi" connection is FREE of any charge to the user.
Secure Connections Inside Meeting Rooms Are Super-Fast
In addition to Wi-Fi, the hotel has also made secure "Super-Fast Internet Connectivity" available within its meeting rooms. Using a special CAT6 cable connection, the meeting planner can arrange to have a fully-secured connection with unmatched speeds for their presentations. Our secure "Super-Fast Internet Connectivity" has a standard transmitting data speed of 100 Mbps. That level of speed is on the order of 65 times faster than a typical T1 line or 130 times faster than current broadband speeds (and 1,800 times faster than the "Slowskys" dial-up connection). For venues that require bandwidth-intensive transmissions, the bandwidth-on-demand (BOD) is scalable up to one full Gigabits per second. At the Embassy Suites Dulles North/Loudoun, presenters won't have to worry that their production could be disrupted due to Internet speed irregularities from too many users.
For more information about the Embassy Suites Dulles North/Loudoun, go to http://www.dullesnorth.embassysuites.com or call 703-723-5300.
###