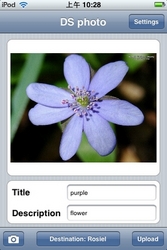 DS photo is the newest addition to our iPhone® applications, and reflects our ongoing commitment to make digital files easy to share and use across multiple platforms and devices
Redmond, Wash. (Vocus) July 28, 2009
Synology America Corp. today announced the availability of their new iPhone™ application, DS photo, which is available to download for free on the Apple® App Store. DS photo provides Disk Station users the ability to use an iPhone® or iPod Touch® to upload photos to their Synology Disk Station, or browse photos stored directly on their Synology Disk Stations remotely.
Synology Disk Station users can use DS photo to upload photos stored on their iPhone® or iPod Touch® to their Disk Stations and instantly share their photos with anyone online. Users can upload their photos to an existing album or create a new one, and customize the photo titles and descriptions. Uploaded photos are instantly available through the web-based Synology Photo Station 3 and can be viewed with a desktop computer, iPhone®, or Windows® Mobile phone.
"DS photo is the newest addition to our iPhone® applications, and reflects our ongoing commitment to make digital files easy to share and use across multiple platforms and devices," said Heather Morford, Director of Marketing for Synology America Corp.
Availability
DS photo is now available for free download on Apple App Store.
http://itunes.apple.com/WebObjects/MZStore.woa/wa/viewSoftware?id=321493106&mt=8
DS photo works with Synology Disk Station 2.2 firmware. The public beta version DSM 2.2 firmware is now available for download with the production version releasing in September 2009.
About Synology
Founded in April of 2000, Synology Inc. (http://www.synology.com) develops next-generation Network Attached Storage (NAS) products for the home, small and medium sized business markets. Providing a secure way of storing and sharing digital content, Synology products are feature-rich, easy-to-use, energy-efficient and affordable. All Synology product investments are enhanced with free software upgrades and 24/7 online support.
Headquartered in Taipei, Taiwan, Synology has a global presence with regional offices in the US (Redmond, Washington) and the UK (London, England).
Press Contact
Heather Morford
Synology America Corp.
(425) 818-1587 X 8031
# # #