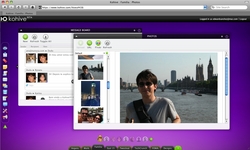 London, UK (PRWEB) October 9, 2009
Kohive, the online collaborative desktop that facilitates communication and collaboration between groups, today announces the launch of its range of premium services.
Aside from a large number of free applications that are part of the standard service, the premium service includes a task management app, increased file storage, and both an upcoming iPhone and desktop app which keeps users' files, calendars and addresses in sync with their web interface.
After joining Kohive, the user is greeted with what looks like a computer desktop. There's a dock of applications on the left and a tab panel at the bottom. Each of these tabs or "hives", provides a completely separate space from which to invite people, share content and communicate with them live.
Kohive's desktop interface allows for an unlimited number of uses since any number of web applications can be created and embedded into user generated hives. It's a 'collaboration platform' where the user is in control.
Kohive's founder Edward Sanchez gives a few examples:
"A freelancer could create hives to share and communicate with his team and clients. He'd create another hive to talk to his family, share photos and recipes. And another to share and talk to his closest friends. It's that range of uses that makes the platform so effective."
While other sites carry the legacy of page-driven navigation (each link takes the user to a new page) Kohive uses AJAX for seamless data retrieval and Ext JS, a new front-end JavaScript library that provides a desktop window driven interface. This means information loads more quickly and navigation is smoother as only the content (and not the page) gets transferred.
Edward Sanchez says:
"Design and usability is at the core of Kohive. The site mimics familiar user interfaces as well as using the latest technologies and best practices for user navigation. By doing so, we make sure that users can always get from A to B with a minimum amount of effort.
"Kohive is to current collaboration sites what the iPhone was to previous generation phones. It offers a superior user experience and an expandable service where custom applications can be installed. What you see now is really only the start - we're working on lots of great apps and features that will be coming over the next few months - the Kohive roadmap is exciting for both users and developers"
To celebrate the launch of the premium suite of services, Kohive are giving users the opportunity to win some shiny prizes:

Tweet the Kohive URL for a chance to win an iPod Touch
Free account signups are entered in a competition to win a MacBook
Paid account signups are entered in a competition to win a custom coloured MacBook Pro
# # #