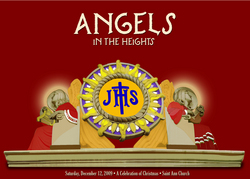 Mr. Boyagian is a gifted conductor who has brought excellence and excitement to the Saint Ann Chamber Orchestra
Cleveland, OH (Vocus) October 27, 2009
Angels in the Heights: A Celebration of Christmas will be held on Saturday December 12th at 8 p.m. in historic Saint Ann Church, 2175 Coventry Road, Cleveland Heights. A pre-concert holiday gathering offering hors d'ouervres, refreshments and children's fare will begin in Walsh Hall, on the lower level of the church, at 6:30p.m. Under the direction of Domenico Boyagian, the Saint Ann Chamber Orchestra will feature an evening of classical and contemporary holiday favorites for the whole family to enjoy. The St. Ann Chamber Orchestra is a professional 50 piece orchestra with members of the Cleveland Institute of Music, the Cleveland Orchestra and Saint Ann Parish.
Conductor Domenico Boyagian is being hailed as one of a new generation of conducting masters. Mr. Boyagian was born and raised in Bologna, Italy. Domenico Boyagian began his music studies at the age of 7 and at the age of 15, he won first prize in his class in piano performance at the Conservatorio "G. B. Martini" in Bologna, where he earned his first music degree. After completing his studies at the Conservatorio, he left Italy to pursue musical opportunities in the United States. "Mr. Boyagian is a gifted conductor who has brought excellence and excitement to the Saint Ann Chamber Orchestra" said William Laufer, the concert series producer. Film producers Bill and Tiffany started the concert series at St. Ann Church and invited Boyagian as well as other notable performers like violin protégée Caroline Goulding, CIM's Ariel Clayton, clarinetist Jay Dubin, Cleveland Orchestra member Henry Peyrebrune and others to join the orchestra.
This is the first performance of the Powers Concert Series named after the Reverend John Powers, the celebrated founding pastor of Saint Ann Church. This event comes almost 100 years after the December 11, 1917 benefit concert which was sponsored by Father Powers and is often cited by historians as the first performance of The Cleveland Orchestra. Like the original event, the Powers Concert Series will benefit the general operation of Saint Ann Parish and School. An interesting historical note also notes that Saint Ann Church was designed by the famed Walker and Weeks architectural firm, the same firm that designed the famous home of the Cleveland Orchestra, Severance Hall.
Tickets are $50 for adults and $25 for children. Tickets include a festive Christmas pre-concert gathering with hors d'oeurvres and refreshments that include children's fare, and a raffle ticket. Two raffles, one for the adults and one for children, will feature six prizes totaling over $4000.
All seats will be reserve and tickets must be purchased by December 5, 2009. For further details or to purchase tickets visit the Powers Concert Series website at http://www.lauferfilm.com/powers-concert-series.htm
For questions or large group ticket purchases please contact Saint Ann Church at 216-321-0024.
###