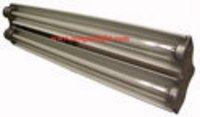 As we move deeper into explosion proof lighting, we are uncovering more ways to add value to standard fixtures
Kemp, TX (Vocus) September 16, 2009
Larson Electronics Magnalight added new models of UL Class 1 and Class II Division 1 rated explosion proof lights, by integrating an emergency ballast. The EPL-EMG-48-2L and EPL-EMG-48-4L are the two and four lamp versions of the popular explosion proof light with integral emergency ballast. In the basic configuration, these hazardous location area lights with emergency ballast will run one bulb for 90 minutes at 900 lumens. In a more advanced configuration, the EPL-EMG2-48-2L can be configured with 2 emergency ballasts, providing 1800 lumens. The EPL-EMG2-48-4L combines 2 of the 4 foot 2 lamp fixtures for a total of 3600 lumens. Carrying UL 844 certifications for Class 1 and Class 2 for Division 1 as well as 1598, 595 (marine, saltwater), 924 and Paint Spray Booth certifications, the EPL-EMG series serves as a standard explosion proof paint spray booth fluorescent light. However, if the power is cut, the lights will operate for 90 minutes. Once power is restored the internal battery is recharged and the fluorescent lights return to full power. Available in four foot lengths and two foot lengths, the EPL-EMG series is available with different bulbs, including the 32 watt T8, 60 watt T5HO or 60 watt T12HO bulbs. For additional cost, these explosion proof, paint spray booth certified lights can be outfitted with 24 watt LED bulbs for operators seeking lower current draw and additional longevity.
"As we move deeper into explosion proof lighting, we are uncovering more ways to add value to standard fixtures," said Rob Bresnahan with Larson Electronics Magnalight. "For a small additional fee, we can an emergency ballast, so we can meet the customer's need for an explosion proof fluorescent light as well as an explosion proof emergency light. To buy these lights independently would generally more than double the cost. We offer a four foot two lamp explosion proof, paint spray booth approved light with emergency ballast for under $1,000. Purchasing just the explosion proof fluorescent light from other manufacturers can cost more than $2,000. Plus, our UL certified explosion proof lights are made in the USA, right here in Texas. So our lead times are minimal, generally turning around smaller quantities in a few days and larger quantities in a few weeks. This is the case with our entire range of explosion proof and hazardous location lighting. We keep substantial amounts of finished goods and parts inventories on hand to be able to ship quickly."
Larson Electronics Magnalight offers a wide range of explosion proof, paint spray booth and hazardous location lighting for industrial, commercial and military customers. Customers can purchase UL certified lighting on magnalight.com or work through established distributors. To learn more, please visit magnalight.com or call 1-800-369-6671.
###