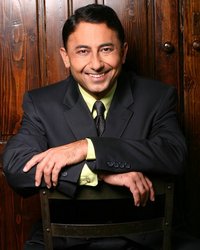 the surgical process starts with understanding the patients needs and desires, present 20 years of surgical experience concisely in a language patients can understand; Perform great surgery and deliver vision beyond patients expectations.
(Vocus) September 16, 2009
The Best kept secret of Los Angeles is now revealed. Dr. Khanna has been voted as the best lasik surgeon by the readers of LA Daily News. The worthy citizens of Los Angeles have probably been impressed by the great surgical results and equally great patient care.
The patients of course were happy to see like an eagle. What separated Dr. K from the pack was that his passion to improve patient's vision and their lifestyle was perceptible. Follow up care was beyond expectations. They had access to his personal cell phone for emergencies and were able to see him on evenings or even weekends. Dr. Khanna says "the surgical process starts with understanding the patients needs and desires, present 20 years of surgical experience concisely in a language patients can understand; Perform great surgery and deliver vision beyond patients expectations."
About Khanna Institute of Lasik Surgery:
The Khanna Institute of Lasik Surgery provides the latest technology in vision correction, tailored to each individual depending on their level of astigmatism, nearsightedness, farsightedness and presbyopia. The Khanna Institute of LASIK and Refractive Surgery has multiple offices conveniently located in Valencia, Westlake Village, Costa Mesa, Beverly Hills, and Corona. Rajesh Khanna, MD is the Medical Director of the Institute. Dr. Khanna is a Board Certified Ophthalmologist, and has been fellowship trained in LASIK, Cataract and Corneal Surgery. He is in the forefront of Wavefront LASIK surgery, Presbyopic Implants such as RESTOR Aspheric Multifocal and Crystalens HD. Dr. Khanna has performed over 10,000 vision correction surgeries. The Khanna Institute provides vision care to people from all over the world
Contact:
Kelly Schneider
Rajesh Khanna, MD
Khanna Institute of Lasik Surgery
1220 La Venta Dr #209 Westlake Village 91361 Phone: 805-230-2126
Fax: 805-230-2199
http://www.khannainstitute.com
###