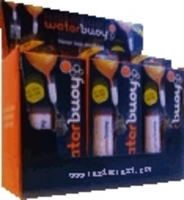 Tampa, FL (Vocus) October 8, 2009
Boaters' stunned reaction to the Waterbuoy, the first intelligent object survival device for operations afloat, has caused such a stir that Marinemart has initiated a separate operation for retailers and boating accessories store owners across the nation. Dealers only have to go to http://www.waterbuoy.us to register to receive Waterbuoys in bulk at severely reduced prices.
Just like individual boaters, store managers and website marketers are realizing the uniqueness of the Waterbuoy and they want to know how to partake in the distribution. Previous public announcements and Marinemart's live demonstrations at the September Tampa Boat Show have caused a ground swell of interest about this brand new device.
For some dealers, they like the Waterbuoy's small size and silky smooth feel. Without a doubt, it's much easier to handle than one of those large plastic corks that look like a clown hat.
Other dealers are excited about how Waterbuoy can bring up to 2.2 pounds back to the surface. Many people don't realize how heavy 2.2 pounds really is. Instead of a few keys, it can handle tens of keys. Expensive tools, various electronic items in dry bags, waterproof radios and more are all safe from sinking to the bottom after plopping into the drink with the Waterbuoy.
Still more store owners are confident in Waterbuoy's marketing prowess because of how easy it is to spot after activation. Boaters know that corks, even if the no-tech float avoids sinking to the bottom, often require the boater to be directly over it to spot the thing in the water. With Waterbuoy's large heavy-duty balloon, 20-10 vision is not a requirement to retrieve your lost item. In addition, darkness actually enhances the capability of the Waterbuoy because of the flashing red light inside of the balloon which is visible from over 800 feet away.
Finally, some folks are simply interested in having the space-aged technology in their store. The splash-resistant trigger, the safe gaseous discharge into the balloon, and the LED lighting are all proof that a store owner means business.
Anyone can go to http://www.waterbuoy.us and enhance their store's reputation with just a few clicks. Most importantly, they can also see a sweet margin. A pack of 12 Waterbuoys can profit dealers $36. (Dealers only need $83.88 per pack and retail is $9.99 per individual unit.) Find out how easy it is to work with Marinemart. For a live demonstration, visit Marinemart at the Tampa State Fairgrounds on October 16th through the 18th.
Marinemart originated from the heart and soul of boating enthusiasts in mid 2009. Based out of Tampa, Florida, and with the support of an international technology company, Marinemart.com seeks a new standard as an on-line marketplace. The excitement is viral once people get to know Marinemart. Introducing brand new items to America, like the amazing new Waterbuoy, is a perfect example. The Marinemart experience simply offers higher value at a price comparable to traditional boat supply outlets. Don't spend hours surfing the web for an item offered by some fly-by-night vendor. Log on and be part of the most expansive boating supplies venue. Relax, it's Marinemart.
For more information about the amazing new Waterbuoy or MarineMart, LLC, visit our website.
###