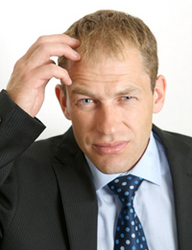 The treatment is very successful. Even for those who think that they may have left it too late...
(PRWeb UK) December 30, 2009
Hair loss contributes to a lack of confidence and has a 'negative impact on social or job situations', according to almost half (40 percent) of the 4,500 respondents in a survey conducted by FL. Lexington International.
And like some of the most popular New Year's Resolutions, such as weight loss and getting a better job, confidence was a major factor in a person's decision to seek treatment for hair loss with minoxidil being the product of choice for 50 percent of patients.
The study, which aimed to reveal peoples' attitude to hair loss and what factors influenced the action they chose to take, came just months after an earlier survey that discovered that 60 percent of hair loss sufferers would rather have more hair than money or friends.
The majority (82 percent) of men and women know that genetics is one of the main causes of hair loss but a couple of years ago more than two-thirds of British men didn't know that there were licensed medical treatments for that could manage, and can even reverse, hair loss.
The acceptance and popularity of these hair loss treatments seems to be increasing though. The number of non-surgical hair loss treatment patients was more than double that of surgical patients in 2008, according to statistics from the International Society of Hair Restoration Surgery, a trend that was reflected in Belgravia Centre statistics which saw an increase of nearly double the people seeking a non-surgical solution for hair loss in 2009 compared to 2008.
"The treatment is very successful, more so at the early stage of hair loss," said Leonora Doclis, senior hair loss specialist at The Belgravia Centre. "For those who think that they may have left it too late, the treatment will still help to keep whatever amount of hair left if they are keen to hold on to their remaining hair growth. For this reason, it is not uncommon that medical hair loss treatments be prescribed to hair transplant patients to maintain the renewed hair growth."
Thinning hair, a receding hairline or excess shedding are common precursors to genetic hair loss, and the result of an inherited sensitisation to the effects of dihydrotestosterone (DHT). Without medical interference, the follicles could eventually shrivel and cease producing hair growth. The treatments that are licensed to address this problem work at the root level to control DHT levels and stimulate and maintain hair re-growth.
While hair loss affects roughly 80 percent and 40 percent of men and women, respectively, there are a growing number of hair loss success stories as a result of medical treatment. Those who make it their New Year's resolution to stop hair loss and restore their hair to its former opulence must be sure to get the best advice and treatment straight up. Why put it off until tomorrow when you can start to regain today?
The Belgravia Centre is a hair loss clinic based in central London that offers free consultations to both men and women concerned about hair loss. Get ahead in the fight against hair loss and contact them now for more information on 020 7730 6666, or check out their website at belgraviacentre.com.
###