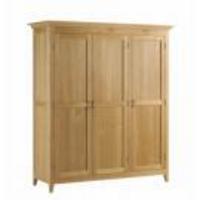 Christopher Deed, founder and owner of www.oakashpinefurniture.com explains: "In recent years we have seen an explosion in the popularity of Oak furniture, mostly home furniture but also for the office, however it tends to be out of the price range for ma
(PRWEB) December 14, 2009
New Wood Furniture is delighted to announce the launch of a new retail website, specialising in hand crafted solid Oak furniture.
The team at New Wood Furniture have huge experience in the bricks and mortar retail furniture environment and invested in the website project to provide quality wood furniture to buyers at sensible prices. The website lists hundreds of pieces of Ash, Pine and Oak furniture and it is the recent popularity of the latter that was a key motivator for establishing the online business.
Christopher Deed, founder and owner of oakashpinefurniture.com explains: "In recent years we have seen an explosion in the popularity of Oak furniture, mostly home furniture but also for the office, however it tends to be out of the price range for many that appreciate its appeal. By setting up a dedicated online business and reducing overheads we are able to offer quality pieces of solid Oak furniture at prices far lower than the high street and out of town retailers can."
Contrary to what many people may believe Oak is a very versatile wood for producing furniture pieces. The range of Oak types can include solid, part solid, rustic, green, matured, dark and light oak varieties.
Christopher goes on to explain: "Many people are genuinely surprised that the number and variety of Oak products we stock is actually greater than the more typical Pine furniture that many people will be familiar with."
So confident is New Wood Furniture that the website also boasts of free delivery on large orders and price match guarantees.
As with many online businesses the absence of a physical shop and the costs associated with it such as rent and utilities means that prices can be kept competitive. The cost savings to the reatiler also mean that greater volumes of stock can be offered, again benefitting the customer.
The trend for acquiring quality home furniture goes beyond Oak furniture and seems to stretch to a diversity other items, for example many sofa retailers are experiencing huge sales increases for very traditional and higher end Chesterfield sofas. Many speculate that despite or maybe even because the recession consumers are still looking to spend on home furnishings and gardening, although the DIY sector has overall slumped, largely due to a static housing market.
###