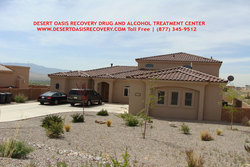 Albuquerque, New Mexico (Vocus) June 9, 2009
Desert Oasis Recovery, an Albuquerque, New Mexico based drug and alcohol treatment center, one of only two privately run centers in the State of New Mexico, launched a new Youtube Channel. Their new DesertOasisRecovery YouTube Channel, focuses primarily on description of programs offered by Desert Oasis Recovery, but also includes several short videos of the company's staff each describing their role with Desert Oasis Recovery and their area of expertise in drug and alcohol addiction treatment and counseling.
Desert Oasis Recovery Executive Director Tami Pacheco states, "Our YouTube Channel videos gives prospective clients an overview about our Compulsive Gambling Addiction Program, our Prescription Drug Addiction, our Nationwide In-Patient Client Acceptance Policy, our Monitored Treatment Program, and the videos include interviews of our staff where they describe their approach to helping people with addictions and they describe a little bit about themselves. Here at Desert Oasis Recovery we offer cutting edge recovery programs. We are a twelve-step model with an emphasis on behavioral science. The program encompasses a fully planned program with a special emphasis on an on-going exit strategy where our clients get the support they really need to stay sober after they complete our program. Our team features a full credentialed staff with a wide range of certifications. Myself and the staff of Desert Oasis Recovery fully recognize the challenges that face a person making a decision to change their life forever and with that in the forefront of our minds we are committed to giving our clients the skill sets and a personal self-plan to follow so that they have the best chance to stay sober and live a powerful life after they leave our center. We feel our new YouTube channel gives a great way to introduce our business, programs and staff to people needing help with different types of addiction. Our plan is to continue to add new videos to our channel on a regular basis with fresh content so people needing help will continue to know about the latest approaches to overcoming addictions that we are offering."
About Desert Oasis Recovery
Desert Oasis Recovery is a New Mexico In-patient, and out-patient alcohol, drug, and gambling treatment center. Our staff is made up of people who genuinely care and take extreme pride in providing the best help for chemical dependency, alcohol addiction, and other addictions such as gambling.
Contact Information
Desert Oasis Recovery
Executive Director – Tami Pacheco
Desert Oasis Recovery
Business | (505) 867-0214
###