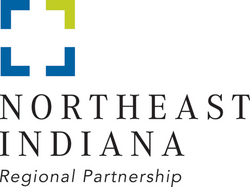 Fort Wayne's interest and ability to bring industry leaders together and sponsor this expo is a prime example of the commitment northeast Indiana has to supporting the orthopedic industry
Fort Wayne, IN (Vocus) October 6, 2009
The Northeast Indiana Regional Partnership (NEIRP) has announced it is a sponsor for this year's 4th Annual Orthopedic Design & Tradeshow (ODT) Expo, held at the Grand Wayne Center in Fort Wayne, IN, October 6-8, 2009. NEIRP partners and staff will also be available to meet tradeshow attendees at booth #707 with information about the northeast Indiana business environment and the benefits the region has to offer to the medical device industry.
Regional Partnership staff members, including Project Manager Dale Buuck, will be on hand at the ODT Expo to share information about the region and meet with prospective companies. Economic development leaders representing northeast Indiana's 10 counties will also contribute additional assistance and support at NEIRP's booth and throughout the expo.
"Fort Wayne's interest and ability to bring industry leaders together and sponsor this expo is a prime example of the commitment northeast Indiana has to supporting the orthopedic industry," said John Sampson, President and CEO of the Northeast Indiana Regional Partnership. "We as a region want to do everything we can to support the growth of the medical device industry in Warsaw to ensure the future success of northeast Indiana."
According to the recently completed BioCrossroads' Report, "Warsaw, Indiana: The Orthopedics Capital of the World," the orthopedic device markets are robust and growing despite current economic conditions. Northern Indiana offers countless assets that can strategically contribute to and enhance the orthopedic industry's vitality and sustainability, particularly in the Warsaw area.
The medical device industry is one of six core industries northeast Indiana focuses its economic development efforts towards. The region's immediate proximity to Warsaw, the widely recognized orthopedic capital of the world, and its reputation for a skilled advanced manufacturing workforce provides the foundation to support and enhance the growth of the medical device and orthopedic industries.
To register and find out more information about speakers, exhibitors and sponsors for the 2009 ODT Expo, visit http://www.odtexpo.com. Qualified original equipment manufacturers (OEM) are offered complimentary access to the exhibition hall, conference sessions and all networking and meal functions. To find out more information regarding northeast Indiana, contact Dale Buuck at (260) 469-3476.
About the Northeast Indiana Regional Partnership: Created in 2006, the Northeast Indiana Regional Partnership's mission is to market the 10-county region and team with local economic development organizations (LEDOs) to bring new jobs and commercial investment to the area. The Partnership concluded a successful Investment campaign in October of 2006 targeting an initial operating period of five years. The RP's global marketing efforts will be on behalf of LEDO's in Adams, Allen, DeKalb, Huntington, LaGrange, Noble, Steuben, Wabash, Wells and Whitley counties.
# # #