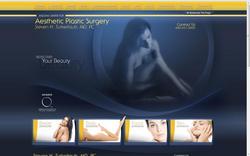 Scottsdale, AZ (Vocus) September 23, 2009
Dr. Steven H. Turkeltaub is director of the Arizona Center for Aesthetic Plastic Surgery, a practice offering a variety of body, skin, and facial options for those considering plastic surgery in Phoenix and surrounding areas. He says, although he has seen a drop in the number of patients requesting breast implants in the last several months, the economic slump has not had much of an effect on those considering breast reduction surgery. "Women seek to have the size of their breasts reduced for two reasons that can be interrelated: functional and aesthetic. Most commonly breast reductions are sought out because of the symptoms that are associated with markedly enlarged breasts such as neck, back and shoulder pains, headaches and rashes. Even with reductions where the intent is to alleviate symptoms, but there is a small aesthetic component as the result will be lifted, smaller and perkier breasts."
In fact, patients considering procedures such as breast reconstruction or breast reduction in Phoenix and the surrounding region can see the results as suiting a physiological and emotional, which may account for the relatively unchanged number of patients who choose to undergo the procedure even in an economic downturn. But even so, Dr. Turkeltaub says there are aesthetic options available for budget-conscious women and men that can achieve their aesthetic goals without breaking the bank or necessitating long recovery times.
For instance, Dr. Turkeltaub says that cosmetic enhancement treatments such as BOTOX® injections, laser skin rejuvenation, and injectable dermal fillers can offer significant and effective skin rejuvenation that can reduce signs of age and correct skin conditions for a smoother, more youthful appearance. These procedures often take 30 minutes or less to perform, offer more subtle rejuvenation compared to invasive surgical procedures such as a facelift, and give the patient a less expensive alternative to plastic surgery options. In addition to injectables and laser treatments, Dr. Turkeltaub offers a full line of top skin care products to help patients get rid of damaged skin layers and promote the growth of smoother, healthy skin.
Dr. Turkeltaub also says the Arizona Center for Aesthetic Plastic Surgery offers financing options from reputable companies that can provide qualified applicants with low-interest, monthly payment plans for cosmetic enhancement procedures. These plans can help patients attain procedures that provide them with aesthetic - and sometimes functional - benefits while they navigate through troubled economic times.
Overall, Dr. Turkeltaub says patients do have options in a tough economy, and feeling better physically as well as aesthetically are not unattainable goals.
About Steven H. Turkeltaub, MD, PC
Dr. Steven H. Turkeltaub is a board-certified plastic surgeon in Scottsdale and the Phoenix area. He is a member of the American Society of Plastic Surgeons, the Arizona Society of Plastic and Reconstructive Surgeons, the Arizona Medical Association, and the Maricopa County Medical Society. He is a past President and current member of the Maricopa County Plastic Surgeons Society, and has been practicing in Arizona since 1987. Dr. Turkeltaub graduated Summa Cum Laude from Boston University and the Boston University School of Medicine and completed his plastic surgery residency at the University of Massachusetts Medical Center.
For more information on aesthetic enhancement options such as injectable treatment, breast reduction, or breast reconstruction in Phoenix and surrounding areas, the Arizona Center for Aesthetic Plastic Surgery can be reached at two different locations, including: 10290 N. 92nd St., Suite 304, Scottsdale, Arizona 85258; or 18275 N. 59th Ave., Bldg. E Suite 126, Glendale, Arizona 85308 – or by telephone (480) 451-3000.
###