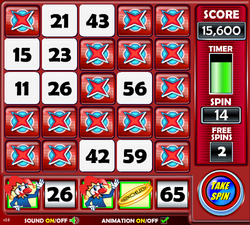 Hackensack, NJ (Vocus) July 22, 2009
Slingo inc., the interactive game company, has launched the popular online game Slingo Classic on the social networking site, Facebook. Members of the popular social networking site will be able to challenge their friends to play a game and view the top scores and lifetime scores of their Facebook friends Slingo Classic game.
"We're convinced that the growing audience of thirty-five plus adults on Facebook will love Slingo Classic and make it a huge success. The core Slingo game has always drawn a large, passionate following on whatever platform it has been released and we're very excited to allow people to play games like Slingo beyond the walls of Slingo.com."said Jason Vourtsis, Director of Product Development, Slingo Inc.
Slingo Classic is a game that combines bingo and slots where players get 20 spins to match numbers on a Slingo Card and if you're really lucky, you'll match a full card, but watch out for that Darn Devil he may steal half your points unless the Slingo Cherub saves you. Once you play, you'll be hooked.
The Facebook Slingo Classic application opens up the Slingo game to a wider audience beyond the walls of slingo.com to play games no matter where they are on the web. The application is free and supported with in-game banner advertising and post game video interstitial ads. Slingo is very familiar with monetizing for free game content with over 12 years of experience from it's advertising supported website slingo.com, where the experience of playing games is enhanced with Slingo Coins, in-game chat, online sweepstakes and the Slingo game community.
Slingo is a regular contributor in the social media space and maintains a strong following through the Slingo Joker's Facebook profile page, the mascot of Slingo, and the Slingo company page on Facebook long before developing this application. Slingo also uses social media channels like Twitter and MySpace to connect with the ever-expanding casual games audience.
To install the Slingo Classic application and challenge your Facebook friends to play a game, visit – http://apps.facebook.com/slingo-classic/
About Slingo Inc.
Slingo, Inc. develops and licenses the intellectual property for the Slingo® brand of games to partners world-wide for use with: free online game sites, download games, lottery tickets, casino slot machines, casino table games, a television game show, interactive television, mobile phone games, and most digital interactive mediums. People can play games including Slingo and other original free online games as well as join the social networking community and enter sweepstakes for a chance to win cash prizes by visiting – http://www.slingo.com.
# # #