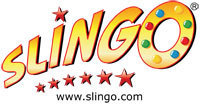 Previously, members were restricted to chatting only with people within the room and game they were playing. The new Friend Locator, Member Search, and Private Chat tools let Slingo members connect beyond the borders of the previous site
Hackensack, New Jersey (Vocus) October 6, 2009 –
Slingo, Inc. announces the launch of the, newly redesigned casual game website at http://www.slingo.com
Slingo is a digital interactive entertainment company that specializes in socially connected free online games. Slingo.com offers more than just a fresh look and feel to Slingo fans. It positions Slingo at the top of the connected casual games market by spotlighting community engagement through enhanced online functionality.
The Slingo website adds to the blend of casual games and social communities by giving people more flexibility and control to manage their individual experience with improved personalization and privacy settings. Additionally, Slingo's new website offers enhanced social features like Private Chat, Member Search and Slingo's Friend Locator, which will allow members to play games and find and chat with their friends at the same time, regardless of which free game they happen to be playing.
"Previously, members were restricted to chatting only with people within the room and game they were playing. The new Friend Locator, Member Search, and Private Chat tools let Slingo members connect beyond the borders of the previous site," said Eric Lamendola, General Manager of Slingo, Inc. "Private Chat is a particularly exciting feature since no other casual game website provides it at this time. I look forward to seeing how our members seize the opportunities for improved communication that the new web site offers."
For more than a decade, Slingo.com has provided casual gamers with a fun online experience where members can play games and form lasting friendships in a friendly online community. With the new Member Search feature it's easier than ever to find old friends and make new connections. In fact, many Slingo members meet up in real life and host Slingo parties that serve to strengthen their online friendships. The loyalty and fun-loving spirit of this casual game community is what has propelled Slingo to become the online success that it is today.
Free membership to Slingo.com doesn't just allow access to play games, online for free – it gives you the opportunity to earn Sling-Status Rank points by playing games, inviting friends to join Slingo.com, or by entering any one of Slingo's exciting sweepstakes and contests. Members also have more ways than ever before to win Slingo Coins through Contests, Happy Hour events and Slingo Game Tournaments.
Slingo invites casual game fans to take the opportunity to explore the new interactive website. As always, it is free to join Slingo.com where you can play games, have fun, find best friends and maybe even find true love. Whether your favorite game is Bingo, Mahjong, or any of our dozen flavors of Slingo, you will love to play games at Slingo.com and discover for yourself why Slingo is first in fun!
About Slingo Inc.
Slingo, Inc. develops and licenses the intellectual property for the Slingo® brand of games to partners world-wide for use with: free online game sites, download games, lottery tickets, casino slot machines, casino table games, a television game show, interactive television, mobile phone games, and most digital interactive mediums. People can play games including Slingo and other original free online games as well as join the social networking community and enter sweepstakes for a chance to win cash prizes by visiting – http://www.slingo.com for more information contact bizdev at slingo dot com
###