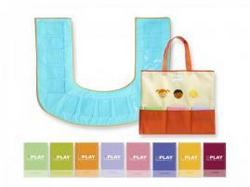 "The unique layout of the U-Play Mat provides an ideal structure within which to teach children with autism."
Armonk, NY (PRWEB) December 9, 2009
The idea for the U-Play Mat arose during a speech therapy session with Dr. Jen, her two year old son and his speech pathologist in September 2008. As he struggled to play on a rectangular mat with cards, Dr. Jen had a light bulb moment: "We should develop a U-shaped mat, created with the child being the center of the play environment." That was the beginning of Play This Way Every Day LLC, and the now patent-pending U-Play Mat.
It was also the start of a new way to think about children's educational products. "We're developing pathways for children of various cultures and abilities to use the same product by recruiting professionals to adapt our instruction manual accordingly for parents, educators and other professionals," says Dr. Jen, a pediatrician and mother of two sets of twins. "The U-Play Mat was initially designed to be used for interactive play with children ages one to five. The original manual outlined language development games for all children, from toddlers learning to talk to children of all ages with specific language development issues. Over the first few weeks of sales, many parents, teachers and therapists commented on how wonderful the 'U' shape would be for children with Autism Spectrum Disorders. We immediately turned to renowned Applied Behavior Analysis (ABA) Therapy experts, Dr. David Kuhn and Dr. Stephanie Contrucci Kuhn to write this manual based upon their clinical and academic experience."
Play This Way Every Day is one of the first companies to adapt a general market educational toy for toddler/preschoolers to specifically address the unique developmental issues of children diagnosed with autism spectrum disorders. Dr. Jen has a smile when saying, "Parents, teachers and therapists want guidance to make the most out of educational toys. Play and learning can be fun, but it doesn't come naturally to everyone, including me. By providing instructional manuals written by experts, it allows caregivers to get started and then use their own creativity to continue the learning process."
"Individuals diagnosed with an autism spectrum disorder often have difficulty expressing wants and needs. It is important to begin teaching a communication system that will allow an individual to make requests. It is also important to teach individuals to identify and name objects in their environment," says autism specialist Dr. Stephanie Contrucci Kuhn. "The layout of the U-Play Mat provides an ideal structure within which to teach these skills. In addition to being able to accommodate multiple pictures simultaneously, the unique layout of the U-Play Mat teaches the learner to use 'search skills'. While most picture communication systems place all of the pictures directly in front of the learner, the U-Play Mat places the pictures in a semicircle around the learner, forcing him/her to look in multiple directions to find the desired object."
Play This Way Every Day set up a special website http://www.playthisway.com/autism offering the U-Play Mat with a free download of this new manual. Special needs web retailer http://www.eztools4autism.com caught on early, offering the U-Play Mat since November. Dynavox Mayer-Johnson will offer the U-Play Mat in 2010. The U-Play Mat is also available at http://www.playthisway.com/autism, http://www.Amazon.com, in Spanish at Puerto Rico site http://www.piomu.com and through http://www.educationalkidsplay.com in Canada.
###