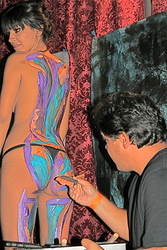 As an artist, I was not content with the mere application of pigments to a canvas, so I developed a technique and a style that makes the human body an active element in the genesis of my art
San Diego, CA (PRWEB) December 2, 2009
When an artist finds their artwork sought after, it's an incredible feeling. For artist Rick Bliss (aka Gil Ortega), creating live exhibition paintings at The Playboy Mansion in front of Hugh Hefner and his celebrity friends offers a sense of wonder and amazement, as it should for any undiscovered artist. Rick Bliss says, "Maybe I'm on to something here, I keep getting asked to paint live at some very cool events, and it's a great feeling."
Indeed, attention is growing for Rick Bliss's artwork, however, it helps that Rick Bliss paints scantily clad, often nude, Playmates and models from around the world. His process is unique; paint is applied to the skin of a model to achieve a desired effect. While the paint is still wet on the skin, the model is positioned over an impression canvas and guided into just the right spot to make an abstract stamp of their body.
Rick Bliss said, "As an artist, I was not content with the mere application of pigments to a canvas, so I developed a technique and a style that makes the human body an active element in the genesis of my art."
After Rick Bliss creates a painting in front of the audience, the piece is auctioned off, mostly in the name of charity. His originals have sold for as much as $5,000 and his prints have sold for as much as $1,800. "I want to create art that reveres the human form while exploring the spectrum of creation and innovation," says Bliss.
Rick Bliss's most recent art project was inspired after seeing the innovative art project by Swiss artist Marcel "Sala" Salathe of One Thousand Paintings. Bliss, in turn, has developed The 365 Project, constructed around a similar pricing model as One Thousand Paintings. Bliss will create 365 body paintings; one body painting representing each day of the year. All 365 original body paintings will go into an auction. The buy now offer will always be $1,000. The initial reserve price will start at a 90% discount from the buy now price. The discount will decrease by 10% every 34 pieces. For example, the first group of 34 will have a reserve price of $100 ($1,000 less the 90% discount); the second group of 34 originals will have a reserve price of $200 ($1,000 less the 80% discount) and so on.
You will be able to watch live over the internet as Rick Bliss paints a beautiful model and creates each body painting. Imagine being able to buy a Rick Bliss original for only $100. The 365 Project is likely to be perceived by buyers as creating a valuable secondary market for Rick Bliss's paintings. This can lead to later financial gain for early adopters of Rick Bliss's work. This will be fun project will be fun, stay tuned!
###