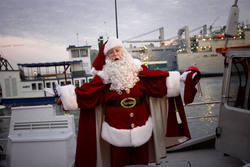 A musical tribute to the spirit of the holiday season, enlivening the first seven blocks of High Street with performances, children's activities, reenactors in period attire, carolers, and much more.
Portsmouth, VA (PRWEB) December 6, 2009
The City of Portsmouth announces two festival favorites, the 14th Annual Olde Towne Holiday Music Festival, and Winter Wonderland: The Coleman Collection - just two of the more than 100 events taking place this holiday season in Portsmouth, VA.
Guests will enjoy world-class art galleries and unique specialty stores, and an array of great food during the Annual Olde Towne Business Association's Arts and Antiques Open House. In conjunction with the 12th Annual Olde Towne Holiday Music Festival on December 12 at 5:30 p.m., children of all ages will enjoy a special Holiday Parade featuring Santa which concludes with a sing-a-long with Santa. There's something for the whole family to enjoy! It's no wonder why our signature events have captured the hearts of so many visitors and residents during one of the most magical times of the year.
For added fun and entertainment visit Andalo's Clubhouse. This year, Andalo's Clubhouse, (presented by the Children's Museum of Virginia) which debuted on October 17, 2009, will be open for kids and families during the holiday season. While work progresses on the renovation of the new Children's Museum of Virginia, kids can still enjoy exhibits and activities such as Tot Lot, complete with Thomas & Friends, as well as Construction Blocks, The City with its Bank, and many other hands-on exhibits that challenge any kids' imagination.
What would a visit to Olde Towne Portsmouth during the holidays be without a stop at the Courthouse Galleries for a stroll through Winter Wonderland: The Coleman Collection? Coleman's adorable "Snow Babies" will be housed in the outdoor gazebos again this year, located in the courtyard of the Courthouse Galleries. Inside the museum, you can visit with many of Santa's elves, busy working in the gingerbread bakery and in Santa's workshop. You will also see the beautiful woodland creatures and of course the popular Santa Claus and his sleigh filled with lots of gifts for every boy and girl.
Don't forget you can also find your special holiday gifts at the Portsmouth Museums Gift Shops located at the Portsmouth Naval Shipyard Museum and Courthouse Galleries. Merchandise ranging from souvenirs of Portsmouth to nautical wares, puzzles, educational toys, stationery and works by Virginia artists are beautifully showcased.
The combination ticket to Winter Wonderland: The Coleman Collection and Andalo's Clubhouse is $5.00 per person. Children under 2 and members are free.
For a more information on all of Portsmouth's Holiday Calendar of Events, please visit PortsVaEvents.com
# # #