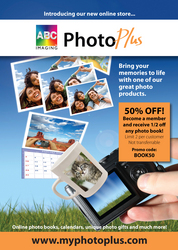 The new MyPhotoPlus.com online photo service is an exciting addition to ABC Imaging
Washington, DC (Vocus) December 8, 2009
ABC Imaging, a Washington DC-based printing and document management firm has announced the addition of a consumer photo services division. ABC Imaging will utilize existing assets like the Xerox DocuColor printers and Dye Sublimation photo printers along with laminating and finishing equipment providing MyPhotoPlus.com quality photo products to supply demands from the consumer.
Earlier this year, ABC Imaging announced the photo services division would offer options on the web for ease of use to consumers owning a computer. In 2007, they accounted for almost one-third of the $951 million custom photo products segment, according to PMA Marketing Research. The revenue generated by photo books grew to approximately 42 percent in 2008. Trends are leading to more and more products being sold online. It's no wonder that photo books are an imaging industry hit.
ABC Imaging is an international company and has a history of producing high quality prints to engineering and architectural firms, advertising agencies and the exhibit industry for over 26 years. "The new MyPhotoPlus.com online photo service is an exciting addition to ABC Imaging," said James Dempsey, division manager at ABC Imaging. "MyPhotoPlus.com offers an incredible range of photo books, from classic photo books to high-end custom cover photo books printed by our team of professionals. Since custom photo books are the hottest product in the industry and are extremely popular holiday gifts, we wanted a solution that would provide anyone with a computer the ability to choose from many emotional products such as that as well as photo gifts, custom calendars and photo holiday cards. Your child can also be put on a photo mug for Grandma and Grandpa" James said.
"ABC Imaging's MyPhotoPlus.com is a perfect fit for the photo service industry because we understand that creative products — especially photo books — are an important part of today's photo industry," said James Dempsey. "We have put a lot of research into photo gift services over the past two years and launched what we think is the best photo book engine on the web in terms of functionality and usability to provide our customers hundreds of sizes and styles to scrappers to the professional, creating photo books and unique photo gifts on their own".
ABC Imaging's new division is predicting MyPhotoPlus.com will attract not only existing ABC Imaging business customers, but many new consumer customers as we enter the busy holiday season. Photography has been around for over 100 years, but now memories can be remembered by allowing consumers to produce photo gifts and books with the use of a computer using today's amazing internet technology. My oh my how far we have come.
To bring in the holidays, MyPhotoPlus.com is offering new members 30-50% off Classic Photo Books, Holiday Cards and Custom Calendars. It seems like Myphotoplus.com is in the spirit of giving back this holiday season, helping to ease the pain within the current economy. It's nice to know that there really is holiday spirit out there, even if it is in the simple form of a discount.
As it has been said, "`Tis the season to be jolly and offer a helping hand and giving love to those closest to our hearts." With that said, Happy Holidays to all and to all a blissful and joyous winter season.
To contact ABC Imaging's MyPhotoPlus.com online photo service and to learn more of the offers, go to http://www.myphotoplus.com or email at customersupport (at) abcimaging (dot) com
###