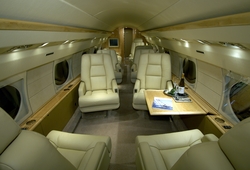 Jersey City, NJ (Vocus) June 18, 2009
Now, more than ever, business people in Dubai, UAE, are choosing private aviation as a safe and effective means of travel for business and pleasure.  Many clients are finding that private aviation is not only convenient but a good alternative to commercial flights.  Private jets give clients access to over 3500 private airports worldwide.  Inquires for international private jet charter have increased dramatically as corporate clients recognize the benefits of using private jets.
PrivateJetsIntl is now offering a VIP Concierge Service. With only one phone call, business people can arrange their private jet and other travel needs.  This offers clients convenience and flexibility for their charter. This is very beneficial for clients.
For those clients in Dubai who fly frequently, a Jet Card might be the way to go.  PrivateJetsIntl offers a Private Jet Card Membership which ranges from amounts as low as $50,000 to $1 million.  This money is held in an account and monies are debited every time the client charters.  Clients will receive a statement after each charter or every month.  Jet Cards give clients the flexibility to choose the right aircraft for each private jet charter. This is a good benefit to the client as it gives them the ability to fly privately with only a few hours notice on their own schedule and with the aircraft they choose. Private Jet Cards are more popular today than ever before.
For more information on Private Jet Aircraft and Private Jet Card Membership please contact Mark Fleischmann.  Please email markf (at) privatejetsintl (dot) com for a competitive jet charter quote.  PrivateJetsIntl is a private jet charter broker which arranges private and VIP jet charters for its clients from a network of operators worldwide. PrivateJetsIntl does not own or operate aircraft.
###