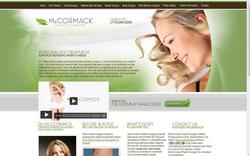 Reno, NV (Vocus) April 17, 2009
The number one question asked by women considering breast surgery is typically: 'What will I look like after the procedure?' A clear and detailed answer may have finally arrived. New technology is making it possible for patients to see the likely outcome of their own breast enlargement surgery without even setting foot inside the operating room. Dr. Tiffany McCormack, a cosmetic plastic surgeon in Nevada and the Reno, Lake Tahoe area, is using the Portrait 3D Surgical Simulation Platform to give patients an idea as to what they may look like after the procedure. And for Dr. McCormack, the technology is extremely helpful for the education and setting of realistic goals for patients in a practice that performs a large number of breast augmentation surgeries per year. "Breast augmentation is one of the most common procedures that I perform. I have a full range of patients – from young women who never fully developed to the extent that they wanted, to older mothers who just lost a lot of the breast tissue… after say breast-feeding or pregnancy." With Portrait 3D, these patients and others who are considering breast enhancement can essentially see into the future in the most accurate way possible.
Portrait 3D is a combination of computer software by Axis Three and patented image-capture technology developed by Siemens. The technology was designed in collaboration with plastic surgeons to create the most accurate and detailed picture of what the patients breasts will look like after procedures such as augmentation (enlargement), lift, reduction, and reconstruction. At Dr. McCormack's Nevada breast augmentation practice, images of the upper body are scanned and fed into a computer. Dr. McCormack can then simulate the likely aesthetic results of a breast enlargement by simply inputting data. The Portrait 3D technology precisely captures the surface anatomy of the breasts, displaying volumetric and linear measurements for both the "before" and "after" images. Dr. McCormack can use the technology to display results from all angles, while giving the patient freedom to choose the sizes of breast implants to place in the 3D model – which is an image of the patient themselves. Therefore, the patient is able to compare and contrast how they might look with a number of different sizes of implants, giving them a better idea of which size they would ultimately like the most.
Dr. McCormack uses Portrait 3D in her initial breast augmentation consultations with patients, giving them a clear view of what they can expect from the moment they walk into her office.
About Tiffany McCormack, MD
Dr. Tiffany McCormack is a board-certified plastic surgeon and head of McCormack Plastic Surgery in Reno, Nevada. She completed her residency training at Stanford University, and has been frequently published in medical journals and books. Dr. McCormack practiced in the San Francisco Bay Area for 10 years, opening her own facility in Reno in 2008 with the goal of offering patients a personalized experience with the surgeon's involvement from pre-operative care to post-operative recovery.
For more information on Portrait 3D in Reno from McCormack Plastic Surgery, the facility can be reached at McCormack Plastic Surgery, 10685 Professional Circle, Suite B, Reno, NV 89521, or by visiting http://www.plasticsurgeryrenotahoe.com.
###