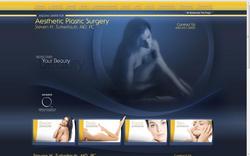 Scottsdale, AZ (Vocus) April 10, 2009
The founder and director of the Arizona Center for Aesthetic Plastic Surgery is giving his website a facelift, and exploring new and innovative ways of reaching out to patients in the process. Dr. Steven H. Turkeltaub and his Scottsdale, Arizona cosmetic plastic surgery practice is embracing the ever-changing world of the internet with http://www.turkeltaub.com, a comprehensive website geared toward educating prospective patients on the many aspects of plastic surgery procedures and what they can expect should they decide to undergo aesthetic enhancement.
Working in collaboration with Rosemont Media, a plastic surgery website design firm, Dr. Turkeltaub has developed a site that focuses on comprehensive, specific information on a variety of procedures in order to give prospective patients a fuller picture of his practice before even setting foot inside his doors. With his new website, Dr. Turkeltaub also provides a detailed view of his biography and credentials, an overview of his practice and philosophy, and links for patients to download and print necessary medical forms that they can fill out prior to visiting his office.
The new website is also designed to provide patients with information regarding specials being offered at the facility, financing information with links to top financing companies for medical procedures, an updated blog written by the doctor, and a way for visitors to access an online skin care store. One of the things that make Dr. Turkeltaub's new site stand out is the volume of procedure information, most of which is written by the doctor himself. For example, details on breast augmentation for Scottsdale, Arizona patients include a comprehensive review of the process with imagery and explanations of breast implants, as well as a plethora of before-and-after photos to provide an idea of the possible outcome of the procedure.
Dr. Turkeltaub is using his new website as a reflection of his practice as a whole, and designed it with the goal of giving patients a full view of what's offered and what each procedure entails. In the constantly evolving world of the internet, Dr. Turkeltaub believes his website can be used as an easy, informational tool for prospective patients who are counting on doctors to give them a full understanding of what to expect when considering elective surgery and cosmetic enhancement.
About Steven H. Turkeltaub, MD, PC
Dr. Steven H. Turkeltaub is a Scottsdale, Arizona cosmetic plastic surgeon, certified by the American Board of Plastic Surgery. He is a member of the American Society of Plastic Surgeons, the Arizona Medical Association, the Arizona Society of Plastic and Reconstructive Surgeons, the Maricopa County Medical Society, and the Maricopa County Plastic Surgeons Society. He holds plastic surgery offices in both Scottsdale and Glendale, Arizona.
More information on aesthetic enhancement options such as body contouring, injectable treatment, and facelift for Scottsdale, Arizona patients can be found via Dr. Turkeltaub's website, or by contacting his offices located at 10290 N. 92nd St., Suite 304, Scottsdale, Arizona 85258; or at 18275 N. 59th Ave., Bldg. E Suite 126, Glendale, Arizona 85308. The Arizona Center for Aesthetic Plastic Surgery can be reached at (480) 451-3000.
###