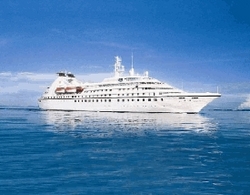 Vancouver, BC (Vocus) December 16, 2009
Sophisticated travellers can now travel Asia in high style aboard the luxurious Yachts of Seabourn.
Through a special partnership with ChinaPac International, these premiere Asia travel packages indulge and delight with first class service, the finest accommodation and VIP treatment from beginning to end. Be pampered with poolside massages and in-suite dining anytime all inclusive with the package. Once stepped aboard the ship, everyone will be taken care of with personalized service and will never have to wait in line again!
Choose from five specialty Asia travel packages sailing to China, Japan, Korea, Vietnam, Thailand and Singapore ranging from 20 to 30 days.
These unforgettable adventures take travellers through the best ports of call in South East Asia. Enjoy star treatment with first-class accommodations and service aboard the splendid and magnificent Seabourn Pride.
With an unmatched sense of style and elegance, the Yachts of Seabourn take travellers beyond the limits of imagination. Whether it's a cup of gourmet hot chocolate while sailing through the Yellow Sea, or emjoying a relaxing poolside massage, the guests will be part of an exclusive club on travels through Asia.
The days and nights are carefree and ultra luxurious. Personalized service is a way of life. Never lift a finger as a guest, unless it's to signal a waiter for another bottle of vintage Bordeaux from the fully stocked wine cellar.
When not cruising, travellers will be staying at the best hotels in Asia. Indulge in 5-star accommodation and savor exotic cuisine on your tours to China and South East Asia. Chinapac has carefully selected these world famous hotels known for their out of this world amenities, outstanding service, and fantastic rooms.
As an added bonus, the April 20th and September 20th departures will give travelers the opportunity to visit the Shanghai Expo during their China tour. Titled "Better City, Better Life," Expo 2010 is a 184-day exhibition beginning May 1, 2010 that explores the concepts of sustainable living in urban environments. The Expo dedicates 5.28 square kilometers in the core of Shanghai to events and forums focused on this theme.
ChinaPac International specializes in travel service to Asia. ChinaPac is proud to celebrate 25 successful years in the travel industry as the premier travel package tour operator to the People's Republic of China and South East Asia.
For more information, visit http://www.chinapac.com.
###