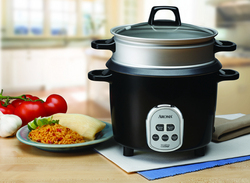 America's Favorite Rice Cooker
San Diego, CA (Vocus) December 22, 2009
While working on the first ever "Spanish Rice" function for a rice cooker, Aroma Housewares' product development team had an epiphany; Spanish rice isn't the only dish that requires food to be first sautéed then simmered until done. A wide variety of stovetop classics require the same steps. That eureka moment gave way to the newly launched patent-pending technology, Sauté-Then-Simmer™.
Sauté-Then-Simmer™ is not only the first rice cooker to be able to sauté foods at a high heat for a prolonged period of time, but this ground-breaking technology also senses once liquid is added to automatically switch to a simmer. And, like all Aroma rice cookers, it automatically switches to a keep-warm mode once the meal is ready.
Sauté-Then-Simmer™ is perfect way to easily make Spanish Rice, Packaged Dinner Helpers, Risottos, Stir Frys, Pilafs and more!
In addition to Sauté-Then-Simmer™ this rice cooker also includes the features that have helped to make Aroma "America's Favorite Rice Cooker," such as a specialized function for brown rice, steam tray for healthy one-pot meals and easy-to-clean nonstick coating.
# # #