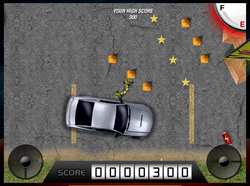 Aliso Viejo, CA (PRWEB) December 23, 2009
Kids can experience the latest innovative toy from Air Hogs and challenge their friends by playing the free online game at playswitchblade.com. This interactive game allows users to virtually play the Air Hogs SwitchBlade RC toy. The game is featured for a limited time on favorite kids' sites including nick.com, kabillion.com, sikids.com, disney.com and cartoonnetwork.com. Users can e-mail or IM their high score link to challenge their friends to beat their score.
SwitchBlade performs a magical in-air transformation using the latest flight technology. The incredible flyer takes off like a UFO and transforms in-air to a high- powered aircraft. It's like having 2 amazing flyers in 1. The SwitchBlade comes with an RF controller, plug-in charger, extra propellers and a built in Lipo battery for extreme power and performance. There's nothing like SwitchBlade in the Market. Hover like a UFO, fly like a Plane!
Play Air Hogs SwitchBlade online at playswitchblade.com.
###