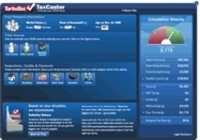 An online income tax calculator and tax program can do everything your taxman used to do.
Traverse City, MI (PRWEB) December 7, 2009
Taxpayers can estimate their 2010 tax return by using the free tax calculator.
The calculator is so easy to use a child could understand it. No more waiting or worrying about how much the return will be or how much tax is due. Now here is a handy tool everyone can use.
Find out right now with a few clicks of the mouse.
Online Resource for Estimating Tax Returns:
Harbor Financial is an online resource for helping to take the anxiety out of preparing income tax returns. No fancy tax jargon is used. The directions are laid out in easy to understand English. Taxpayers can have confidence knowing their returns will be accurate and error free.
Click on a Picture to Enter Information:
Answer simple questions about income and watch the wheels spin. The return estimate or amount owed is updated as data is entered. Have instant results with helpful advice tips being presented for an added benefit.
Navigation Made Easy:
No more ending up on the wrong road, losing time and money. Before GPS was around to help with traveling, time was lost by pulling over to read the map. Don't read those boring, time consuming tax books anymore. The free tax calculator will do all of the hard work. Simply pull the lever to the right or left with the mouse and watch the numbers change until it's at the correct amount.
Charitable Deductions and Medical Expenses:
Do not miss another tax deduction that could have been claimed. This tax return estimator will search for over 350 different deductions and credits eligible to be claimed by taxpaying Americans. Don't be part of the crowd that leaves thousands of dollars that could have been in their pockets.
Information Travels Safe and Secure
Personal information is shielded from prying eyes while entering private data. This tax software uses the same encryption technology used by banks while it is electronically sent to the IRS and state agencies.
About Harbor Financial Online
Harborfinancialonline.com provides tax information, a free tax calculator, and online tax filing. For over seven years our company has helped thousands of Americans file their taxes and get faster refunds. Harbor Financial Online is based in Traverse City, Michigan.
###