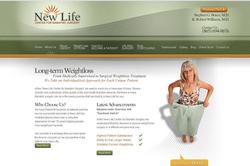 You can cure diabetes, high blood pressure, sleep apnea, reflux, osteoarthritis – patients live longer, they have a decreased chance of dying from cancer… there's nothing more powerful in medicine.
Knoxville, TN (Vocus) August 4, 2009
More than three million Americans suffer from morbid obesity, a disease which can lead to life-threatening conditions such as heart disease, diabetes, high blood pressure, and stroke. Morbid obesity, typically characterized by those who are 80-100 pounds overweight, can also be responsible for serious emotional and psychological afflictions such as depression and low self-esteem. The New Life Center for Bariatric Surgery, a Knoxville, Tennessee weight loss surgery practice, offers one of the most comprehensive and respected surgical weight loss programs in the region, and it's launching an advanced new website equipped with some of the latest tools of the internet to educate patients on its programs, and let them know how they can overcome morbid obesity with potentially lifesaving treatment.
The New Life Center's new website is an expansive, virtual view of the all-encompassing program offered to patients who can benefit from bariatric surgery. The founder of the practice, Knoxville, Tennessee bariatric surgeon Stephen Boyce, MD, worked with Rosemont Media®, a medical website design firm, to create a site that covers all aspects of what the New Life Center offers, plus an array of educational information for patients who are suffering from morbid obesity. The site includes videos featuring Dr. Boyce explaining the intricacies of bariatric surgery, an updated blog, before-and-after photos of patients, and many pages of content detailing what patients can expect before, during, and after surgery. The new website describes the many types of weight loss surgery procedures available from the practice, such as REALIZE® and LAP-BAND® Adjustable Gastric Banding, Roux-en-Y Gastric Bypass, and gastric sleeve surgery. It also gives patients an array of information regarding the various seminars, support groups, and aftercare programs offered to ensure that weight is being lost safely and effectively, and that the patient is adjusting well to the lifestyle changes necessary after the procedure has been performed.
In addition to providing details to patients who are considering surgical weight loss procedures such as adjustable gastric banding and gastric bypass in Knoxville, Tennessee, the new website is also equipped with an online BMI calculator for patients to compute their own body mass index, which determines part of the qualifications for weight loss surgery.
The new website is designed to reflect the many options for people to turn their lives around by safely losing significant amounts of weight and reducing the risks of serious conditions brought on by obesity. In that regard, Dr. Stephen Boyce says weight loss surgery is the most powerful tool in medicine today. "You can cure diabetes, high blood pressure, sleep apnea, reflux, osteoarthritis – patients live longer, they have a decreased chance of dying from cancer… there's nothing more powerful in medicine."
About the New Life Center for Bariatric Surgery
The New Life Center for Bariatric Surgery has been designated a "Center of Excellence" by the American Society of Bariatric Surgery - a distinction only given to a select few surgical weight loss facilities to signify a high standard of care – and is the only center with that designation in East Tennessee to offer all approved bariatric operations. The center was founded in 2002 by Stephen Boyce, MD, a bariatric and general surgeon with training in advanced laparoscopic surgery in addition to a Masters Certification in Bariatric Surgery. In 2006, Dr. Boyce was joined by weight loss surgeon K. Robert Williams, MD in the continuing development of the New Life Center as a comprehensive, all-encompassing bariatric surgery program. The staff comprises a range of professionals in a variety of specialties, including a nurse practitioner, bariatric nurse coordinators, a dietician, an exercise physiologist, a psychologist, and a patient advocate. The entire team comprises more than 75 years experience in helping people fight obesity and permanently lose weight.
For more information on surgical weight loss programs such as gastric bypass, REALIZE® Band, vertical sleeve gastrectomy (VSG) and LAP-BAND® System Surgery in Knoxville, Tennessee, the New Life Center for Bariatric Surgery can be contacted at (865) 694-9676, or via http://www.parkwestcwlc.com
###