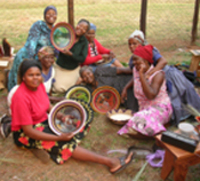 Del Mar, California (Vocus) April 30, 2009
Give a Mother's Day gift that changes another mother's life. ExoticWorldGifts.com is an e-commerce site selling culturally authentic handcrafted jewelry, purses, scarves, shawls, home décor, elephant art and unique gifts to help artisans in developing countries have sustainable income.
Each purchase empowers artisans with an opportunity for a better future. ExoticWorldGifts.com abides by Fair Trade principles and pays each artisan Fair Trade wages (30 – 50% more than with Free Trade). "Without Fair Trade wages, women can not work their way out of impoverished situations. The key priority is for women artisans to give their children education. After consistently hearing this in Africa, Bali, Cambodia and around the globe, we created a way to make this happen," said Allen. Liz Allen quit her corporate career and sold her house to start her woman-owned business, ExoticWorldGifts.com, and make a difference.
Meet the Nyishi Tribe Artisan women who have been rescued from child marriages in the Himalayan mountainous region of India - a group of brave and talented women artisans who create handcrafted jewelry. These women are victims of child marriage and now live in a Short Stay Home run by the cooperative. Purchasing their handcrafts helps educate, provide a safe living place and a sustainable livelihood they deserve.
Meet the Ban Napho Weaving Group in Thailand who make the finest quality silk scarves and shawls, yet live in poverty. Only able to get one season of crops, this Artisan group must rely on weaving skills to thrive. ExoticWorldGifts.com, gives these talented Artisans a way to have sustainable income via selling to the US market on the internet. Purchases support local and home based work where they can easily tend to their families and pass these time-honored skills from one generation to the next.
Meet Paulene Ntombura, an amazing woman and inspiration behind Soapstone products from Kenya. Pauline grew up as the daughter of a tribal chief in the village of Kisii in southwest Kenya. Bucking the tradition that women stay in the home, Pauline obtained her education. Later she established a soapstone workshop which now employs more than 800 people (about 50% are women). Pauline is paid Fair Trade Wages and, in turn, Pauline pays her artisan's fair wages so they can afford decent housing, education for their children and basic healthcare.
Purchasing fine handcrafts from ExoticWorldGifts.com is about conscious shopping for sustainable gifts with heart-warming stories and pictures - shoppers feel connected compassionately and know they are helping mothers around the world.
# # #