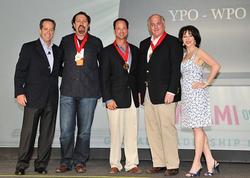 It was difficult to choose only ten winners from all the submissions we received from member companies around the world that are each making exceptional contributions to their communities, so these award recipients truly shine
Ferndale, WA (Vocus) March 26, 2009
The Social Enterprise Networks of YPO (Young Presidents' Organization) announced the winners of its 2009 Corporate Social Responsibility Awards, extended in recognition of companies headed by YPO members and graduates that have made a significant, measurable impact in their communities, on the environment, or among their employees.
The ten winners are: Diageo in Asia-Pacific; GDF Suez Energy in Brazil; Canadian Mountain Holidays, Inc. in Canada; Aramex in Jordan; Saudi German Hospitals Group in Saudi Arabia; Brandix Landa Limited in Sri Lanka; Benchmark Assisted Living, Goodwill Industries International and TechTurn in the United States; and Ron Santa Teresa in Venezuela.
The winners were selected from 160 applications based on the positive impact the organizations have made in underserved or disadvantaged communities; in environmental sustainability or innovation; and/or in addressing workplace issues such as diversity, living wages, wealth sharing, ownership programs and transparency. For more information about the winners and why they won, click here.
"It was difficult to choose only ten winners from all the submissions we received from member companies around the world that are each making exceptional contributions to their communities, so these award recipients truly shine," said Rob Follows, chair of the Social Enterprise Networks (SEN) and member of the Corporate Social Responsibility Awards selection committee.
YPO members and graduates connect beyond their local chapters around shared business, personal and social enterprise interests through Networks. SEN is a grouping of different Networks that bring like-minded peers together to address community, philanthropic and humanitarian endeavors.
"One of the amazing benefits to being a member of YPO is the ability to join Networks like those in SEN that put you in touch with hundreds of business leaders who are making the world a better place and who are ready and willing to share their knowledge and experience," Follows remarked.
About YPO
YPO (Young Presidents' Organization) is a not-for-profit, global network of young chief executives connected around the shared mission of becoming Better Leaders Through Education and Idea Exchange.™ Founded in 1950, YPO today provides 17,000 peers and their families in 100 countries with access to unique experiences, world-class resources, alliances with top learning institutions, and specialized Networks that help them enhance their business, community and personal leadership. For more information, visit http://www.ypo.org.
Contact: Michèle Foster, mfoster (at) ypo (dot) org
# # #