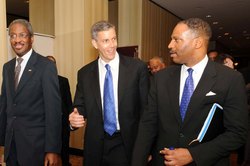 This is why I am such a big fan of what the 100 Black Men are doing around the country
New York, NY (PRWEB) June 17, 2009
In an interview with CNN's T.J. Holmes, U.S. Secretary of Education Arne Duncan praised the mentoring and community outreach efforts of the 100 Black Men of America, Inc. as an effective tool in building the quality of education in the country.
During the interview that addressed the quality of education in the United States, Secretary Duncan highlighted the need for children to be exposed to positive influences coupled with high standards in education as a way to produce the best and brightest students in the world.
"This is why I am such a big fan of what the 100 Black Men are doing around the country," said Secretary Duncan during the interview. "When our children have the opportunity to be surrounded by adults that care passionately about them and stick with them for the long haul, they will do fantastic."
Following the interview, Secretary Duncan led a discussion on education during the 100 Black Men of America's 23rd Annual Conference titled "Education on the Frontline". Secretary Duncan highlighted federal education priorities; including the importance of early childhood education, appropriate funding for teachers and the support of historically black colleges and universities (HBCU).
"There are enormous disparities that exist among African-American youth as it relates to grade-level education, higher education opportunities and the digital divide. This year's conference focused on tackling those issues from a global perspective and finding solutions to educating our young men and women," said Chairman of the 100 Black Men of America Inc., Albert Dotson Jr., Esq. "We look forward to engaging in continued dialogue with Secretary Duncan and others as we work towards finding solutions for problems in education."
View the interview by clicking link below.
http://www.cnn.com/video/#/video/politics/2009/06/13/holmes.duncan.school.cnn
About the 23rd Annual 100 Black Men of America Conference (June 10-14)
Community leaders, decision makers and celebrities participated in the four-day conference that included interactive workshops, thought-provoking panel discussions and various plenary sessions for more than 3,000 attendees. This year's theme, "Education on the Frontline," explored issues concerning education in the African American community during various breakout sessions and roundtable discussions in the host city where the concept for the 46-year-old organization was developed-New York.
About 100 Black Men of America, Inc.
100 Black Men was founded as an organization in New York City in 1963. The national organization, 100 Black Men of America, Inc. began with nine chapters in 1986 as a national alliance of leading African American men of business, public affairs and government with a mission to improve the quality of life for African Americans, particularly African American youth. Today, under the direction of Albert E. Dotson, Jr., the organization has 116 chapters in the United States, England and the Caribbean. The 100 serves as an international coalition focused on creating educational opportunities, promoting economic empowerment, addressing health disparities and creating positive mentoring relationships.
# # #