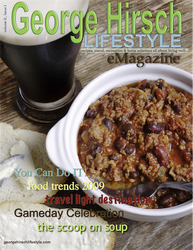 Today more than ever we need to look ahead with a positive frame of mind and embrace the goodness in our lives.
New York, NY (PRWEB) January 29, 2009
George Hirsch Lifestyle eMagazine, a Hirsch Productions Digital Publication offering cooking and lifestyle solutions for men and women, who want the most out of living well everyday, releases its Winter Issue today and is available at georgehirschliving.com.
The eMagazine's 2009 Top Ten Food Trends is based on George's sensible lifestyle for inspiring better ways on how to eat, travel, recreate and serve our communities. The trends stem from George's well-lived lifestyle as featured on the informative and entertaining lifestyle TV show 'George Hirsch Living It Up'. 'George Hirsch Lifestyle' eMag features the trends along with George's helpful home solutions, savory easy-to-prepare recipes, affordable value vacations, practical product guide, and healthy recreational activities. The interactive digital bi-monthly magazine is delivered in an engaging format for the reader's convenience and pleasure. The Hirsch Productions Publication is available by free subscription at georgehirschliving.com
George's top three sensible food trends highlights affordability of breakfast and brunch dining gaining consumer attendance. And with a major increase in home gardening, home canning becomes the sustainable new norm. Also, eggs will be prepared as the main ingredient beyond just breakfast.
Sample Trend:
So Misunderstood- Eggs will take the position in the center of the plate beyond breakfast. Nutritious, flavorful, versatile & easy to prepare; an increased use of eggs will become common for lunch & dinners. A study recently published online in the journal Risk Analysis estimates that eating one egg per day is responsible for less than 1 percent of the risk of coronary heart disease (CHD) in healthy adults. One egg has 13 essential nutrients in varying amounts - including high-quality protein, choline, folate, iron and zinc - for only 75 calories.
For the complete George Hirsch Lifestyle 2009 Trend List
'George Hirsch Lifestyle' is an essential how-to source for family menu planning from preparing nutritious and comforting winter meals to gatherings for Game Day parties. This issue also includes how-to create satisfying crowd pleasers such as Cane Charred Shrimp recipe & video, White Turkey Chili, Spicy Corn Chowder and Hot Chocolate Berry Cupcakes. George will demonstrate his Game Day recipes and tips on LIVE with Regis and Kelly, Friday January 30, 2009.
Other highlights of this issue include:

Meal Solutions™: Scoop on Soups
Cruise Value Vacations & Touring a Princess Cruises Ship Video
StyleMaker™ Art of Wax Sealing & Make a Valentine Love Letter
Good Stuff: Sensible & Well-Made Products
Living Well Inspiration: You Can Do it Daily Messages
Hirsch's easy-no-fuss style and positive living well nature offers a doable approach to life. George states, "Today more than ever we need to look ahead with a positive frame of mind and embrace the goodness in our lives."
Created and published by Hirsch Productions Publications, each issue contains extensive lifestyle features and video clips from his TV series such as seasonal recipes from Chef George's Kitchen, garden tips, travel features, home solutions, and 'You Can Do It' inspiration for living well. This interactive digital edition of George Hirsch Lifestyle eMagazine is Carbon Neutral, green friendly. For additional information and for viewing convenience, Subscribe to future free issues of George Hirsch Lifestyle eMagazine.
To schedule an interview with Lifestyle Expert, George Hirsch.
About Lifestyle Expert, George Hirsch, CEC, CCE, AAC. George Hirsch is the host of the syndicated and PBS television series 'George Hirsch Living it Up'. The TV series highlights food, travel, recreation and home for living well. As a five-time cooking and lifestyle author, Chef George Hirsch has reached a global audience through U.S. TV Syndication, his nine previous PBS television series airing for more than a decade. His daily messages are found on the George Hirsch Blog. He regularly appears on LIVE with Regis and Kelly along with other news programs.
###