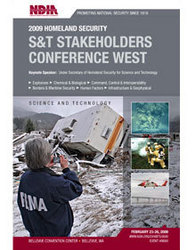 First Responders Frontiers: Enabling First Responders Today and Tomorrow
Arlington, VA (Vocus) February 3, 2009
The Science and Technology (S&T) Directorate of the U.S. Department of Homeland Security (DHS) will join leaders from the First Responder community nationwide for NDIA's "First Responders Frontiers: Enabling First Responders Today and Tomorrow," the 2009 Homeland Security S&T Stakeholders Conference West, to be held February 23-26 in Bellevue, Washington.
The 2009 Homeland Security S&T Stakeholders Conference West, presented by the National Defense Industrial Association (NDIA) is targeted on the capability gaps and technology needs of police, fire, and emergency management personnel at all levels of government—in the United States and internationally.
The conference will focus on First Responders as key customers for the science and technology research investments made and managed by the S&T Directorate, which is responsible by law for providing homeland security capabilities to state and local governments and private sector entities with a homeland security mission. Representatives of numerous First Responder organizations, jurisdictions, and other state and local emergency management and homeland security professionals will be at the event to help identify the capability gaps that must be filled by future investments in science and technology research.
This year's agenda will highlight the specific programs currently underway at S&T to support First Responders, and will build interactively a list of High Priority Technology Needs for First Responders that S&T will incorporate into its research planning. The ultimate objective is to deliver technology solutions whose capabilities not only satisfy the First Responder operational capability needs but also affect the processes, tactics, techniques and methods of employment of those performing the First Responder and emergency response and management missions.
"What makes this conference really special is the unique opportunity for all involved to interact and exchange ideas, information and insights on a very personal level," said Barry Bates, Vice President of Operations for NDIA. "There are opportunities for focused discussions on specific issues between attendees, the leadership of the DHS S&T Directorate, representatives of First Responder professional organizations, and working First Responders during the conference. It's these discussions that allow the entire Homeland Security community to move forward more efficiently, with a collective perspective, to understand what the future of technology may look like for First Responders, and prepare accordingly for that vision."
To find out more information about the 2009 Homeland Security S&T Stakeholders Conference West or to register for this event go to http://www.ndia.org/meetings/9690
About NDIA:
The National Defense Industrial Association (NDIA) is America's leading defense industry association promoting national security through communication and knowledge-exchange between industry and the government. NDIA has nearly 1,500 corporate members and more than 64,300 individual members from the defense/security industry, the government and military. NDIA supports its mission through technical symposia, expositions, government advocacy, regional chapters, technical divisions, affiliate associations and its award winning magazine, National DEFENSE.
###