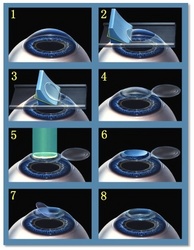 LASIK Dr. Nicholas Caro and Saint George Vision, Chicago, IL have amassed 50 LASIK lawsuits, yet has zero disciplinary action taken by the Department of Regulation, AMA, ASCRS, FDA or CDRH.
Fort Lauderdale, FL (PRWEB) July 8, 2009
(http://www.LifeAfterLasik.com, "LASIK Advocacy Network")
First, what is LASIK? "LASIK" (laser-assisted in situ keratomileusis) pronounced: "Lay Sick," not "Lay Six," is an elective procedure that slices a permanent "Flap" into the patient's cornea(s) using either a femtosecond laser microkeratome (laser) or a mechanical microkeratome (steel blade). The flap is then peeled back using an excimer laser to reshape the under surface central area of the cornea. The flap is hopefully then put back into its original place and the surgery is concluded.
The purpose of a "long-term" LASIK study is to see if the LASIK patients feel satisfied with the long-term results (3, 5, 7, 9, 11 years later), asking them to all come forth and tell their own personal stories, to measure whether or not the patients agree with the LASIK industry's stated 95.4% Patient Satisfaction Rate, which means that there is a 4.6% Patient Dissatisfaction Rate. It is LifeAfterLasik's opinion that the "Original Clinical Studies for LASIK did not meet the strict requirements for FDA Approval" requiring a "Less than 1% Adverse Event/Complication Rate," as stated on FDA's website: http://www.fda.gov/MedicalDevices/DeviceRegulationandGuidance/GuidanceDocuments/ucm080249.htm. Kantis believes "the long-term results of LASIK could easily regress to about a 20-30% patient disssatisfaction rate;" Thus, the reason Kantis and others want to perform these studies.
The FDA and CDRH were put on notice just last year about this very serious concern, at the April 25, 2008, Emergency LASIK Ophthalmic Panel Discussion in Washington, DC, where hurt LASIK patients came from all over the USA asking the "FDA for an immediate LASIK MORATORIUM:" http://www.youtube.com/profile?user=FDALasikHearingVideo&view=videos.
Due to a very recent article citing a LASIK physician's medical malpractice case, it is LifeAfterLasik's opinion that more concerns are "raised about this LASIK surgeon found guilty on June 13, 2009, of artificially aging a note in his own patient's medical chart...a clear violation of the Hippocratic Oath, which is supposed to mean first do no harm to a patient, causes further concern about the credibility of all LASIK physicians. This should prompt a complete investigation by the Department of Justice and the Office of Criminal Investigations, which Kantis states "he has filed complaints with both entities so that they can prosecute a LASIK doctor with criminal penalties..." NY County/Supreme Court, Case #107637/07: http://www.prweb.com/releases/2009/06/prweb2530734.htm.
Dean Andrew Kantis asks in the report, "Is there a standard of medical care when it comes to LASIK elective surgery and has it been made safer in 2009 than in 1997?" Current Investigational health reporter, Ms. Deborah Shelton, Chicago Tribune, on July 5th, 2009 wrote that "LASIK Dr. Nicholas Caro and Saint George Vision, Chicago, IL have amassed 50 LASIK lawsuits, yet has zero disciplinary action taken by the Department of Regulation, AMA, ASCRS, FDA or CDRH." A special hearing will take place in Chicago next week to decide Dr. Caro's fate (Illinois Department of Regulation, Monday, July 13th, 2009). http://tinyurl.com/l32scv. On February19th, 2010 the Department of Regulation confirmed with the Chicago Tribune that Doctor Caro will NEVER be able to perform LASIK surgeries again, for having ruined so many patients that he was viewed as being DANGEROUS to his patients: http://tinyurl.com/yz74u6j . So how many LASIK lawsuits does it take to discipline a LASIK surgeon 3, 5, 10, 50 lawsuits? This is the only LASIK surgeon in history to have been disciplined to "Never Again Perform LASIK," because of having ruined so many lives.
Therefore, the Long-Term LASIK Study will focus on the following criteria:
A. "Is It True That The Flap Never Heals?"
B. "Where Are The Long-Term Studies To Prove LASIK Is Safe?"
C. "Are The 2,500 LASIK Ambulatory Surgical Facilities (ASF's) in the USA Being Investigated By The FDA/CDRH (And Are They Reporting LASIK AE/Complications To Medwatch?"
D. "Are LASIK doctors still re-using microkeratome blades on their patients?"
E. "Are the reported success rates accurate and are the original clinical studies flawed?"
To learn more about the "Long-Term LASIK Study," hurt LASIK patients are being prompted to fill out a form telling their LASIK dissatisfaction story here: http://www.lifeafterlasik.com/form.php .
Kantis states, "Hopefully the media and society as a whole, will put the pressure on the FDA/CDRH, led by Dr. Margaret Hamburg, to further answer: (A). Whether LASIK devices should have the 'FDA Approval' immediately removed, (B). Whether the FDA/CDRH will immediately investigate new long-term clinical studies headed by an unbiased team, that will investigate all LASIK ASF's, (C). Whether the FDA/CDRH will immediately initiate a LASIK Moratorium, until long-term safety studies can prove that LASIK is safe.
"On a positive note," exclaims LifeAfterLasik, "the FDA appears to be concerned by a exponential rise recently in Medwatch LASIK complaints, (from 1999-2008, there were 142, from 2008-present, that number has jumped to over 1,500 and climbing) and they are urging consumers to report their LASIK complaint (whether it be regression of one or both eyes) by filling out this online form into the Medwatch LASIK Reporting system so that the FDA is aware of all LASIK patients that are "dissatisfied with their surgery, the physician or clinic, and/or LASIK device, by initiating the complaint into the Medwatch LASIK Reporting System here: https://www.accessdata.fda.gov/scripts/medwatch/medwatch-online.htm.
The FDA has also asked the public to report any LASIK facility that is "Not Stating All Known Risks" in any advertisement online, radio, print, or TV here: http://www.fda.gov/MedicalDevices/ProductsandMedicalProcedures/SurgeryandLifeSupport/LASIK/ucm154882.htm.
http://www.LifeAfterLasik.com
"Hurt LASIK Advocacy Network"
Fort Lauderdale, FL
###