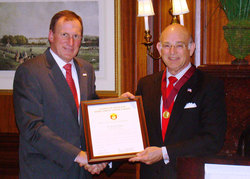 Arlington, VA (Vocus) December 9, 2009
The National Defense Industrial Association recently awarded Dr. Ronald D. Sugar, Chairman and CEO of Northrop Grumman Corporation, its prestigious 2009 James Forrestal Industry Leadership Award. The award honors Dr. Sugar for his exceptional corporate leadership, his personal commitment to supporting a robust defense industrial base, and his advocacy for a responsive government-industry national security team.
With the Forrestal Award, NDIA recognized Dr. Sugar for his deep understanding of the crucial role played by the industrial base in sustaining national security. Particularly attentive to the human capital dimension of the industrial base, he has become recognized as a champion for Science, Technology, Engineering and Math education. The award citation notes his personal support and sponsorship of a variety of Northrop Grumman programs designed to sustain the technological 'know-how' that serves as the foundation of our Nation's strength.
Widely known for his exceptional personal and professional ethics, he has instilled high standards of business conduct and values across the Northrop Grumman Corporation, stressing the view that no industry is more dependent on its code of ethics than the defense industry.
NDIA's Forrestal Award is named in honor of James V. Forrestal, who was America's first Secretary of Defense. The award serves to recognize Secretary Forrestal's support for a strong industrial base, and is bestowed annually on a defense industry executive who, among other qualities, best reflects Secretary Forrestal's keen understanding, insights and advocacy for a robust industrial base capability.
###