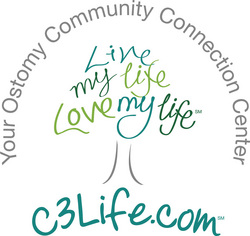 The show really supports our goal of helping people with ostomies live their lives to the fullest.
Libertyville, Illinois (PRWEB) September 23, 2009
The place to "see and be seen" was the United Ostomy Associations of America (UOAA) National Conference Fashion Show, which took place on August 8th at the Sheraton Hotel in New Orleans, Louisiana.
C3Life.com℠, a community website for people with ostomies, their caregivers, and loved ones, sponsored the well-attended show, which featured:

24 male and female models of all ages with ostomies - including a body builder!
Comedy and commentary from emcee Brenda Elsagher - author, comedian, and national keynote speaker
Comfortable and stylish clothing from Dillard's® department store that can help conceal ostomy pouches
Undergarments from Ostomysecrets® - including their popular Vixen Wrap (for intimate moments) and their new Swim Wrap (which can be worn under a pre-surgery bathing suit)
In addition, Vanilla Blush™, an international manufacturer of apparel for people with ostomies, wowed the audience with their fabulous, stylish, and sexy lingerie and swimwear.
As the models strutted down the runway, emcee Brenda Elsagher shared ideas on how to select clothing that conceals ostomy pouches. Photos of the models, as well as ostomy fashion tips for the outfits, are currently posted in the C3Life.com Photo Gallery.
"This is the first time we've featured a fashion show at our conference, and it was a huge success," said LeeAnn Barcus, President of the United Ostomy Association of Greater St. Louis and one of the organizers of the UOAA National Conference. "Many attendees stopped to tell me that the show was the highlight of the event."
"The fashion show definitely was a hit - attendees spilled into the hallway and the energy from the crowd was amazing," said Lisa Peterson, manager of the C3Life website and community. "The show really supports our goal of helping people with ostomies live their lives to the fullest."
Overall, approximately 600 people attended the second UOAA National Conference, which ran August 5-8. In addition to the fashion show, the event featured many other interesting opportunities to learn and connect, including:

Free Wound Ostomy Continence (WOC) Nurse consultations
Workshops and educational programming
Exhibits by manufacturers and distributors of ostomy products and services, ostomy apparel manufacturers, and ostomy support groups
More special events - including an ice cream social sponsored by Hollister Incorporated
http://www.c3life.com
http://www.uoaa.org
http://www.vblush.com
http://www.ostomysecrets.com
http://www.livingandlaughing.com
The UOAA is an association of affiliated, nonprofit support groups committed to improving the quality of life for people who have, or will have, an intestinal or urinary diversion (i.e., colostomy, ileostomy, and/or urostomy).
C3Life.com is a website dedicated to helping people with ostomies live their lives to the fullest. It features information on lifestyle topics, ostomy-related issues, products, news, and events. Members can pose ostomy-related lifestyle and product questions to a panel of clinicians, share their thoughts on an interactive forum, and submit personal stories, photos, videos, and more. C3Life.com is supported by Hollister Incorporated.
© 2009 Hollister Incorporated.
###