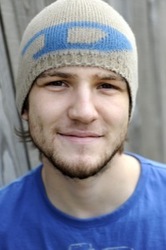 Our course is short only 50 weeks but in fifty intensive weeks we can teach people the essential skills of making furniture, Gaining genuine expertise, as Dougie will find will take a deal longer but this is a good start
Shebbear, Devon (PRWEB) September 12, 2009
There are still a few real apprenticeships left. Doug Williams, 22, of Lancaster has just won a place, one of only three offered, at the famous Edward Barnsley Workshop, a woodworking school in Petersfield England starting in September. This is a Charitable Trust set up to provide a genuine five-year training in cabinetmaking for a few lucky people. Here he will learn to make furniture to the very highest is standard. Selected from a field of over 100 applicants how did Doug win such a prestigious place?
The answer is that he worked hard for it. Doug attended an intensive one-year fee paying course at the workshop of David Savage, one of the worlds leading furniture designers.
His workshops are near Shebbear in rural Devon, England. "He worked very hard," said David
"and that is the key, this year is very intensive. It's 50 weeks in a high quality commercial workshop learning alongside our craftsmen. These students have to quickly learn to make to a very high standard. Dougie made some very good pieces of work. He will hopefully go on from here and develop into a very fine furniture designer".
This is a woodworking school with a difference, this is an Atelier, a European term for a workshop where everyone from Master Craftsman to the newest apprentice is learning at different levels from different people.
"This is a community of learners", said David Savage. "Our course is short only 50 weeks but in fifty intensive weeks we can teach people the essential skills of making furniture, Gaining genuine expertise, as Dougie will find will take a deal longer but this is a good start".
"This is not just for young people, we have many people joining this year in mid life or after long and successful careers. We have had former diplomats and former coalminers, the unifying factor being that they all wanted to make things to the highest standard and also felt a need to do something in their lives that was more creative."
The woodworking course run by David Savage admits only a dozen or so students each year from all over the world. There is no requirement for entry other than aptitude and determination..
If you would like to study with David Savage at Rowden Farm workshops then contact us here, or for more information on woodworking courses feel free to visit our course information page at finefurnituremaker.com
From our website we also offer independent advice on handtools, timber, and offer woodworking DVD's, filmed at the workshop. A good way to get a feel for how the woodworking school is structured.
Contact:
David Savage
Fine Furniture LTD
+44 (0)1409 281579
http://www.finefurnituremaker.com
# # #