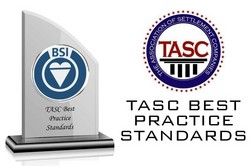 to do business the right way.
Grapevine, Tex. (PRWEB) April 10, 2009
American Debt Control, LLC, has received "Best Practices Accredited" recognition from The Association of Settlement Companies (TASC), the national professional association of the debt settlement industry. TASC President Chris Kesterson presented the award at the association's annual meeting yesterday following a comprehensive audit of American Debt Control's business practices, completed earlier this year.
Accredited TASC member companies are evaluated against nationally recognized standards to assure sound, ethical business practices and adherence to the highest levels of quality, service and integrity. TASC accreditation reduces risk to consumers by assuring the member company has been independently evaluated by a third party for its competence and capabilities.
Zach Anderson and his sister Nicole, veteran debt settlement specialists, started American Debt Control in 2006 "to do business the right way." Zack is president, and Nicole is vice president of the rapidly growing enterprise.
"We have joined an elite group of settlement companies leading this new industry by example," Zack Anderson said. "We provide hard-working people an effective and legitimate way to deal with otherwise insurmountable levels of unsecured personal debt."
Nicole Anderson added, "Our nation is in the midst of exceptionally difficult financial times right now, and the people we help every day are among the most affected. Our accreditation from TASC reinforces the trust they have placed in us."
Negotiated debt settlement has been practiced throughout recorded history, but began to take on increased importance as consumer debt began a long, steady climb in the 1980s. When changes in U.S. bankruptcy law in 2005 made it more difficult to for individuals to use Chapter 7 bankruptcy, the modern debt settlement industry began to take form in the United States.
Unfortunately, some companies abused the public trust and did not represent the best interests of their clients. Industry leaders formed The Association of Settlement Companies in 2005 to define and enforce high standards in the industry. TASC introduced the Best Practices Accredited program in 2007.
To help consumers learn how to know which debt settlement companies may best meet their needs, American Debt Control produced a special report, 12 Questions to Ask Before You Hire a Debt Settlement Company, available from the company at no charge.
About The Association of Settlement Companies:
The Association of Settlement Companies (TASC) promotes fair business practices, consumer protection and industry standards for the debt settlement industry. TASC, founded in 2005, serves to protect consumers through an organization seal that represents best practices and standards of reputable companies. The organization also protects its member companies through lobbying efforts at the state and national levels, as well as awareness initiatives to educate consumers on debt settlement as a financial solution. All TASC member companies pledge compliance to strict association bylaws governing business practices and ethics. For more information, visit http://www.tascsite.org .
About American Debt Control:
American Debt Control, LLC, is a full-service debt settlement company with more than 10 years of experience helping financially distressed people become debt-free and regain control of their lives. Our knowledge and solid relationships with banking and collection institutions nationwide help our clients reach favorable settlements, become debt-free and stay that way without the lasting stigma of bankruptcy. For more information, call American Debt Control toll-free at 1-866-861-8894, or visit our Website, http://www.americandebtcontrol.com .
Contact:
Mark Cummins, Vice President of Operations
American Debt Control, LLC
817-231-0951
###