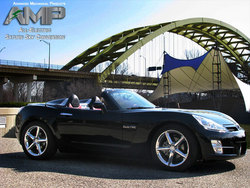 We are very excited about being accepted into the Progressive Automotive X PRIZE competition
Cincinnati, OH (PRWEB) March 18, 2009
Advanced Mechanical Products, Inc. (AMP) today announced its acceptance into the multimillion dollar Progressive Insurance Automotive X PRIZE, a competition designed to inspire a new generation of viable, super fuel-efficient vehicles to offer more consumer choices.
AMP officially submitted its registration application on behalf of its AMP Electric Car on February 17th, an important step towards ensuring that it is at the starting line when the exciting stage race competition kicks off next year. Final confirmation of AMP Electric Car's Registered Team status is pending signature of a Master Team Agreement (MTA) upon its upcoming release.
The AMP Electric Car team consists of seasoned veterans from the Engineering and Business community. Team Members are: Steve Burns, Team Leader; Tim Wieck, Mechanical Lead; Don Wires, Electrical Lead; and Dan Zito, Business Lead.
"We are very excited about being accepted into the Progressive Automotive X PRIZE competition," said Steve Burns, AMP CEO. "TheAMP Electric Car we will be driving is an electric conversion of the GM Saturn Sky. Because it is a conversion, we feel the AMP methodology is the fastest way to put high-quality, safe, 100% electric cars on America's streets. It's an affordable, American-made, real car."
Already, more than 40 teams have been accepted as Registered Contenders, and an additional 100 teams have signed Letters of Intent to compete for their share of the $10 million prize purse, funded by Progressive, which will be awarded to those that can design and build production-capable, 100 MPGe (miles per gallon energy equivalent) vehicles that people will want to buy and that meet market needs for price, size, capability, safety and performance.
Those who pass this first round of qualification, as AMP Electric Car now has, will move into the next phase of competition, which includes a rigorous long distance stage race competition. Winners will be announced in 2010.
"We congratulate AMP Electric Car on its commitment to developing super fuel efficient vehicles," noted Julie Zona, Director of Team Development and Relations for the Progressive Automotive X PRIZE. "While there's still much to be accomplished before reaching that starting line, we're pleased to see that they have taken this important step in the process."
About Advanced Mechanical Products, Inc. (AMP):
AMP was founded in 2007 by several automotive industry veterans who have created several hi-tech companies. Since its inception last year, the AMP converted all-electric Saturn Sky has proven itself to be an idea that has generated an extreme amount of interest, with inquiries coming from around the world. The company's patent-pending vehicle conversion technology will provide new solutions to America's energy demands.
For more information about AMP Electric Car please visit http://www.ampmotorworks.com.
About the Progressive Automotive X PRIZE Competition:
The goal of the Progressive Automotive X PRIZE, a project of the X PRIZE Foundation, is to inspire a new generation of viable, super fuel-efficient vehicles that offer more consumer choices. Ten million dollars in prizes will be awarded to the teams that win a stage race for clean, production-capable vehicles that exceed 100 MPGe.
The Progressive Automotive X PRIZE will place a major focus on affordability, safety, and the environment. It is about developing real, production-capable cars that consumers want to buy, not science projects or concept cars. This progress is needed because today's oil consumption is unsustainable and because automotive emissions significantly contribute to global warming and climate change.
For more information about the Progressive Automotive X PRIZE, please visit http://www.progressiveautoxprize.org.
About Progressive:
Progressive, founded in 1937, is a leading insurer of cars, motorcycles, recreation vehicles, boats and commercial vehicles. The Company offers competitive rates and innovative products and services that meet drivers' needs throughout their lifetimes as well as 24/7 online and in-person customer and claims service.
One of Progressive's Core Values is Excellence. To the Company's more than 27,000 people, it simply means seeking constant improvement. Over time, this has meant introducing revolutionary ideas that make car insurance easier to shop for, buy and use. It's this same innovative spirit that's behind the Company's sponsorship of the Progressive Automotive X PRIZE. The Progressive Automotive X PRIZE will inspire innovation that will produce more fuel efficient vehicle choices, helping to make a difference in people's lives.
Progressive's products and services are available locally through more than 30,000 independent insurance agencies in the U.S., online at http://www.progressive.com and by phone at 1-800-PROGRESSIVE (1-800-776-4737).
###