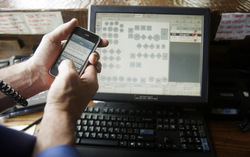 Much of what we do for our clients is behind-the-scenes. Our work is validated through the positive experience of our customers and more importantly -- their customers
Atlanta, GA (PRWEB) August 18, 2009
There are a few dining spots around Atlanta where diners definitely want to see their server on the phone … an Apple iPhone® that is! Atlanta-based Arobase Group, a technology solutions company and member of the Apple Consultant Network, helped Great Food Inc. leverage iPhone to operate its two popular Atlanta restaurants more efficiently and cost effectively. The owner and operator of Social Vinings and Paul's restaurants, Great Food Inc. is one of 12 companies nationwide (the only one from Atlanta) that attracted recognition from Apple to be profiled for their use of the popular mobile device that's rapidly growing as a valuable business too.
Arobase Group - A Secret Ingredient:
The most sophisticated technologies are rendered useless if it's not effectively purchased, installed, deployed, and managed. While the folks at Apple concentrate on developing innovative business features and applications, it's companies like Arobase Group that make it real and usable for businesses every day. As a certified expert in Apple technology, Arobase Group spends its days crafting industry-specific solutions that integrate the latest and greatest in technology for end users.
"Much of what we do for our clients is behind-the-scenes. Our work is validated through the positive experience of our customers and more importantly -- their customers," said Kelly Theresa Linton, co-owner and president of Arobase Group. "When a company as large and respected as Apple takes note of your work, it's a BIG deal. It's a tangible stamp of approval for us and a great mark of distinction for Great Food Inc.," added Linton.
From restaurant A/V controls and access to the company reservation system; to employee scheduling and Twitter® updates, Arobase Group has created and manages the infrastructure that empowers Great Food Inc. to operate seamlessly through the use of iPhone among its 100+ employees in two locations. With the customized development of Great Food Inc.'s Bento database and other enterprise software at the core, Arobase Group integrated food service specific features and applications that accesses real time information on-site or remotely.
"Our employees are no longer bogged down with the back office," said Paul Albrecht, owner of Great Food Inc. and son of Atlanta's well-known Chef Paul. "With iPhone integration, they can focus on the customer."
On the Menu with Arobase Group and Great Food Inc.:
Arobase Group kept Great Food Inc.'s four key hallmarks -- Food, Wine, Ambiance and Service -- in mind when building their system. All the hours of work invested on the most intricate of networks can amount to nothing if these areas weren't positively affected for all key stakeholders.
"The restaurant business - in particular -- is known for being very labor-intensive and fast-paced in an environment that's hectic," said David Linton, founder and chief technology officer of Arobase Group. "We build systems that shift the weight and stress to the technology so that our clients can keep the focus on their customers where it belongs."
Highlights include:
Schedules: The management team at Great Food Inc. uses iCal all day, every day. Albrecht and his team are always synchronized and up-to-the-minute on employee schedules, banquet bookings, large parties and customer orders.
Reservations: Great Food Inc.'s reservation system, Open Table is accessible remotely from iPhone. Users can check, schedule and cancel reservations from anywhere.
Real-time Resources: Every customer has his/her own food palette so you never know what type of non-conventional requests may come up. Where competitors may have to sift through pages and pages of bulky recipe books, Great Food Inc. taps into more than 4,500 drink combinations at the bar via the Drink application. WineSnob acts similarly for pairing meals with wine at the customer table.
Personal Touch: Great Food Inc. is also able to control every aspect of Audio & Video in the restaurant via iPhones. From changing television channels and adjusting the volume on one or all sets; to selecting music to play from numerous sources, including Pandora Radio or iTunes. All with iPhone at the helm. "We had a wedding reception at one of our restaurants. Right after the ceremony, the photographer emailed me a photo of the bride and groom. Using my iPhone, I posted it to our MobileMe account and had it on our digital display as the couple walked in the door," commented Albrecht.
Connecting: Printed logbooks and daily reports are a thing of the past. Arobase configured Mac OS X Wiki Server so the entire team stays connected via a single website, with the ability to post daily reports, the grocery list and training material online. Any team member can access the information from anywhere. The team can also text between the serving floor, kitchen, back office and off-site. The use of these new and old means of communicating via iPhone has addressed concerns about expansion and the inability to be in more than one restaurant at a time.
Marketing & Promotions: Marketing tools such as new dishes and daily specials; company news and customer testimonials, can be uploaded to the restaurant's website and digital display at the bar right from iPhone. Facebook® and Twitter are completely integrated to keep customers updated routinely on what's happening at Great Food Inc.
Macs & Martinis Celebration at Social Vinings Restaurant:
To celebrate their recent recognition, Arobase Group and Great Food Inc. are hosting a special networking event at Social Vinings Restaurant on August 20 at 6:30 p.m. A brief program including a Q&A session with Arobase Group kicks off at approximately 7 p.m. for companies and individuals interested in maximizing iPhones in their business lives. Admission is free and guests are treated to discounted Appletinis and the Naughty Leopard Cocktail; as well as complimentary Lite Bytes and door prizes. Media should RSVP to by August 19 for press credentialing.
For video, photos and more on Arobase Group's work with Great Food Inc., go to apple.com/iphone/business/profiles/great-food/. For press in inquiries, contact Angela D'Amario at of Taylor Communications Group at 770.310.1152. To integrate the iPhone in your business or home today, contact David Linton of Arobase Group at 404.229.3118.
About Arobase Group:
Arobase Group is an Atlanta-based technology solutions company servicing diverse business sectors including Energy, Food and Beverage, Medical/Health, Professional Services and Entertainment among others; as well as providing Home Concierge services for individuals and other groups. Founded in 1999, Arobase Group has grown to include a team of technology experts specializing in a variety of disciplines for Apple and Microsoft Technologies. In addition to its membership in the Apple Consultants Network, Arobase Group holds various industry memberships and certifications including ACSP, ACTC, ACSA, ACMA, Apple Developers Connection and Filemaker TechNet. Keeping true to its core of client trust, customer satisfaction, innovation and best in class people, Arobase Group still services its first client. For more information on Arobase Group, visit http://www.arobasegroup.com.
###