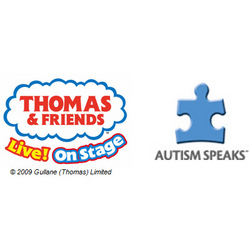 We are extremely grateful to Thomas & FriendsTM Live! On Stage for their support in our efforts to elevate autism awareness around the country
New York, NY (PRWEB) January 21, 2009
Autism Speaks, the nation's leading autism advocacy organization, announced today a yearlong partnership with Thomas & FriendsTM Live! On Stage: A Circus Comes to Town, a new musical stage show produced by AEG ThemeSTAR and HIT Entertainment.
As part of the partnership, special discounted performances to Thomas & Friends Live! will be available to children with autism and their families, during the January through August 2009 nationwide tour. Additionally, $1 from each ticket sold for these special performances will be donated to Autism Speaks.
The national tour of Thomas & Friends™ Live! On Stage: A Circus Comes To Town begins this month in California and visits 51 cities, with selected venues donating a portion of ticket proceeds to Autism Speaks. The first performance to benefit Autism Speaks will take place on Saturday, January 31, 2009 in Los Angeles. Additional stops featuring performances for Autism Speaks will include the New York metropolitan area during April and June.
In support of children with autism, many of the selected venues will feature "quiet rooms" where families can take a break and then return to the show. The rooms will feature Thomas & Friends coloring activities and will be hosted by the local Autism Speaks chapter, which will also provide information about the organization to interested parents.
Tickets for most shows will be available at http://www.ticketmaster.com or by calling local Ticketmaster offices. For complete tour information, visit http://www.thomasandfriends.com/live or http://www.autismspeaks.org/sponsoredevents.
"We are extremely grateful to Thomas & FriendsTM Live! On Stage for their support in our efforts to elevate autism awareness around the country," said Suzanne Wright, co-founder of Autism Speaks. "These special performances are a wonderful opportunity for families living with autism to have fun and create lasting memories in a safe and welcoming setting."
"We are very happy to be partnering with Autism Speaks to bring attention to the work they are doing and help raise funds for such important research. Families are our reason for being, and we look forward to celebrating the special and warm relationship children with autism have with Thomas & Friends™ when they visit us at Thomas & Friends ™Live! On Stage. We look forward to a very rewarding partnership as we visit in-person with families around the country and around the world," said Mark Avery, CEO of AEG ThemeSTAR.
"The Thomas & Friends television series has long been regarded as a top choice among children with autism, thanks to the bold-colored characters, clear emotions and simple storytelling," said Gary Krakower, SVP of US Consumer Products and Live Events, HIT Entertainment. "This new partnership with Autism Speaks in the US supports a very worthy organization and provides kids with autism a fun, exciting and safe stage show experience."
According to a 2007 study by the UK-based National Autistic Society, Thomas is a favorite character amongst children with autism. Most children with autism seek to understand and categorize the world in a way that makes sense to them. The calm, gentle world of Thomas & Friends, with its simple storylines, bold colors, clear facial expressions and recognizable characters that behave very predictably appears to be one they can understand and relate to. In addition, the characters in Thomas & Friends are very suitable for identification, listing and collecting - all common behaviors of many children with autism.
The all-new 90-minute musical adventure Thomas & Friends™ Live! On Stage: A Circus Comes To Town is packed with audience sing-a-longs, high-energy dancing and thrilling adventures. When Thomas makes a big mistake, all the engines on the Island of Sodor must work together to prepare for the exciting event under the Big Top as Thomas proves he's a really useful engine once again. Along the way, Percy, James, Gordon, and of course Thomas, join with Sir Topham Hatt and the townspeople from the Island of Sodor to welcome a colorful cast of circus performers in an engaging story that demonstrates the importance of friendship and cooperation.
About Autism:
Autism is a complex brain disorder that inhibits a person's ability to communicate and develop social relationships, and is often accompanied by behavioral challenges. Autism spectrum disorders are diagnosed in one in 150 children in the United States, affecting four times as many boys as girls. The prevalence of autism has increased tenfold in the last decade. The Centers for Disease Control and Prevention have called autism a national public health crisis whose cause and cure remain unknown.
About Autism Speaks:
Autism Speaks is dedicated to increasing awareness of autism spectrum disorders, to funding research into the causes, prevention and treatments for autism, and to advocating for the needs of individuals with autism and their families. It was founded in February 2005 by Suzanne and Bob Wright, the grandparents of a child with autism. Bob Wright is Senior Advisor at Lee Equity Partners and served as vice chairman, General Electric, and chief executive officer of NBC and NBC Universal for more than twenty years. Autism Speaks merged with both the National Alliance for Autism Research (NAAR) and Cure Autism Now (CAN), bringing together the nation's three leading autism advocacy organizations. To learn more about Autism Speaks, please visit http://www.autismspeaks.org.
About AEG/ThemeSTAR:
AEG/ThemeSTAR produces live family entertainment for the global marketplace. Since its inception in 2004, AEG/ThemeSTAR has repeatedly acquired high-potential, globally branded intellectual properties from major studios and entertainment brand owners, and then creates, distributes and operates live entertainment productions via their proprietary, global distribution network. ThemeSTAR licensed productions that are currently touring include Thomas & Friends™ Live! On Stage: A Circus Comes To Town with HIT Entertainment, Scooby-Doo Live in StageFright with Warner Bros., Dora's Pirate Adventure in conjunction with Live Nation and Nickelodeon, Mummy Returns Live with Universal Studios, Looney Tunes Hollywood House of Fun with Warner Bros., and Quidam with Cirque du Soleil in China. In addition to its growing core business, AEG/ThemeSTAR's unique position as a strategic global operator is also generating new and diverse IP and licensing opportunities that leverage management's ability to structure and commercialize new ventures on a global basis and in key developing markets. For more information about AEG/ThemeSTAR, please visit http://www.themestar.com.
For press materials and artwork, please visit http://www.thomaslive.com.
About Thomas & Friends™:
Thomas & Friends™ invites children to enter a world of imagination through the tracks of a train and the words of a story. Thomas the Tank Engine™ was created by a father for his son more than 60 years ago. Today, families in more than 145 countries enjoy fun and adventure with their engine friends while experiencing timeless life lessons of discovery, friendship and cooperation. Thomas & Friends™ is making tracks to great destinations on PBS KIDS®, PBS KIDS SproutSM and with downloadable episodes available through iTunes. For more information about the world of Thomas the Tank Engine™ and his friends, please visit http://www.thomasandfriends.com.
###