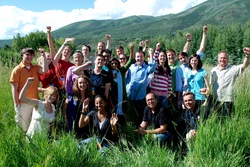 This experience has profoundly changed me. I feel empowered. I can no longer sit on the sidelines. - - Lanna Giauque, 2009 Student Scholar
Aspen, CO (PRWEB) December 16, 2009
Prestigious, all-expense-paid scholarship at high altitude. The Bezos Scholars Program at the Aspen Institute seeks 12 top public high school juniors and 12 dynamic educators to receive seven-day, all-expense-paid scholarships to attend the acclaimed Aspen Ideas Festival: July 5 - 11, 2010.
The program seeks independent thinkers, demonstrated leaders and engaged community members.

12 Student Scholars, chosen through a highly competitive application process, will receive a seven-day, all-expense-paid scholarship to participate in the 2010 Aspen Ideas Festival.
12 Educator Scholars. Upon selection of student scholars, educators from respective schools will receive full scholarships, thereby offering a unique leadership development opportunity for students and educators.
Bezos Scholars will participate in a power-packed week of special events and round-table discussions with international leaders, policy makers and creative artists who attend the Aspen Ideas Festival. Past scholars met with Supreme Court Justice Sandra Day O'Connor, Secretaries of Education Arne Duncan and Margaret Spellings, inventor Dean Kamen, Teach for America founder Wendy Kopp and aquanaut Sylvia Earle, among other notables.
Post-festival, Student Scholar/Educator Scholar teams will apply for $1,000 seed grants to leave a legacy by creating sustainable Local Ideas Festivals in their schools.
"We know that attendance at the Aspen Ideas Festival can be life changing for the individual," explains Jackie Bezos, co-founder with husband Mike of the Bezos Family Foundation. "When these scholars--both students and educators--return home inspired to create Local Ideas Festivals, it may be life changing for schools and communities across the U.S."
Criteria apply. Deadline: applications must be received by February 12, 2010.
Visit the site to download the poster, postcard, FAQs, fact sheet, Educator's Guide, and more.
Media Contact:
Linda Shockley
917-521-0711
shockley(at)bezosfamilyfoundation(dot)org
###