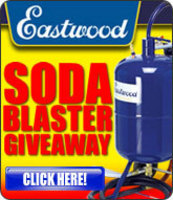 This contest is a celebration of www.eastwood.com [Eastwood's newly designed website __title__ Eastwood's newly designed website] launch, which now offers numerous opportunities for user participation
Pottstown, PA (PRWEB) July 7, 2009
The Eastwood Company, the do-It-yourself source for automotive restoration tools and chemicals, today announced the "Soda Blaster Giveaway Contest." The contest continues until July 31, 2009, 11:59 p.m.
"This contest is a celebration of Eastwood's newly designed website launch, which now offers numerous opportunities for user participation," said Joe Richardson, Eastwood Restoration Expert. A "Deal of the Day" program that puts one product on sale for one day, at one special low price, is another planned celebration event.
Eastwood continues it's 31-year history of focusing on the information and product needs of the community of car enthusiasts. "With its new interactive website, the rich information base is expanded to include the experiences and projects of Eastwood website users," Richardson commented.
Now, anyone can upload and share their project photos and videos. People can post product ratings and reviews. Individuals can participate in weekly polls.
If a customer needs more product information, the site offers alternate images and close-ups of products. There are numerous instructional "how-to" videos now available for more complex items.
Eastwood has a generous Free Tech Library of informative content that thousands of customers and web users have come to rely on. This helpful feature of Eastwood's earlier web edition has been retained.
Additional new features were created to help the shopper quickly navigate and speed the shopping process. Product categories are more easily visible and include informative drop-down menus. Today visitors can vote for their favorite Eastwood Employee's restored and refinished classic car at http://www.eastwood.com. The new, more dynamic site allows additional features to be added in the future, including rewarding its customers with discounts, giveaways, and contests.
Beginning July 6, 2009, Eastwood will offer 20% on its popular aerosol Rust Converter, which transforms rust into a protective coating that seals and protects. The aerosol gets to hard-to-reach areas like floor pans and engine compartments and is thin enough to flow into cracks and seams. It quickly prepares surfaces for top coating.
Today, Eastwood is present on numerous social network sites such as Facebook, MySpace, Twitter and YouTube. These offer new opportunities for car enthusiasts to interact with each other and with The Eastwood Company experts.
Eastwood - Company Information
The Eastwood Company markets unique tools and supplies for repair, restoration, and modification of cars, trucks, and motorcycles. Founded in 1978 by Curt Strohacker, Eastwood continues to have a pioneering spirit with an R&D facility that continually develops and tests new products. Eastwood serves a broad range of individuals and organizations with restoration, maintenance and revival needs.
These include the home hobbyist, individuals and organizations focused on restoration and revival of automobiles and motorcycles, as well as metals, fire-damaged wood, graffiti removal, mold and mildew remediation along with revival of boating and aircraft bodies. Eastwood also serves bus, train and truck fleet executives who need an effective and environmentally friendly means to keep equipment in optimal shape.
Eastwood staff is the tops in the field of restoration and are available to answer technical questions and offer free technical support.
Eastwood offers 100% satisfaction guarantee and same day shipping for orders in by 3:00 p.m. ET. For Immediate Interview with Joe Richardson, Eastwood Restoration Expert, please contact Connie LaMotta, conniela(at)mac.com, 845 596 6091.
###