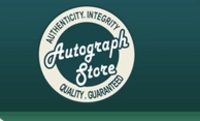 We obtained more and more images from the film as the months went on and we were able complete some cast signed items with Emma Watson and Rupert Grint while they were in New York last week promoting the film. Last week was absolutely crazy for us as Daniel, Rupert and Emma were in New York City all at the same time, staying at different hotels and doing different promotions for the film
New York, NY (PRWEB) July 15, 2009
AutographStore.com, a leading auction website specializing in celebrity signed photos and memorabilia, will exclusively offer new autographed images from Harry Potter And The Half Blood Prince. Fans and collectors can join in the excitement generated by the new Harry Potter movie by bidding on Harry Potter And The Half Blood Prince celebrity signed collectibles in Autograph Store's new releases autographed memorabilia section. Throughout July and August Autograph Store will offer selected Harry Potter cast signed collectibles from the new movie. The first auction to end with these items is Sunday, July 19. Now through August 31, bidders can find amazing deals on Harry Potter signed celebrity memorabilia and be the first fans to own these hot memorabilia items.
Autograph Store is pleased to be able to provide these Harry Potter autographed collectibles to the public. All of Autograph Store's movie, TV, model and musician signed collectibles are guaranteed authentic. Every celebrity collectible sold on AutographStore.com is signed in person and witnessed, hologram certified and comes with a letter of authenticity.
Obtaining these Harry Potter signed memorabilia items presented a challenge that Autograph Store gladly met to satisfy the many Harry Potter fans who are looking forward to the new movie. Autograph Store offers an inside look into the process of acquiring these special collectibles:
"Obtaining authentic autographs and memorabilia from the Harry Potter cast is not an easy task. Although Harry Potter And The Half Blood Prince does not officially premiere until July 15 we were able to get some unsigned image stills from the movie back in December of 2008," stated Michael Tobin, Autograph Store Auction Manager. "We conducted several signings with Daniel Radcliffe in January while on Broadway starring in "Eqqus." We obtained more and more images from the film as the months went on and we were able complete some cast signed items with Emma Watson and Rupert Grint while they were in New York last week promoting the film. Last week was absolutely crazy for us as Daniel, Rupert and Emma were in New York City all at the same time, staying at different hotels and doing different promotions for the film," Mr. Tobin said.
"We had to divide up our staff into three separate teams to cover the signings. We were able to get items signed at The Ed Sullivan Theater, ABC television studios, FUSE studios, The Ziegfeld Theater, The American Museum Of Natural History, and other more private locations, basically wherever Daniel, Rupert and Emma were, we were there getting new photos from the film signed. The opportunity we offer fans and autograph collectors alike to obtain and capture an authentic piece of film history just as the movie is being released is something we are very proud of," stated Mr. Tobin.
Once fans [register on AutographStore.com they can start bidding on their favorite new Harry Potter collectibles. Autograph Store's celebrity auction site is available 24/7 so it's always the right time to bid on Harry Potter signed photos and autographed memorabilia.
The weekly auctions are going on right now in the new release category for unique Harry Potter authentic signed collectibles from the new Harry Potter movie. Autograph Store encourages all Harry Potter fans to register on the site today so they don't miss a moment of these exclusive Harry Potter autographed memorabilia auctions.
About AutographStore.com
AutographStore.com offers online auctions of celebrity signed rare and one-of-a-kind collectibles. With thousands of items to choose from to meet every budget, AutographStore.com provides an enjoyable, easy to use auction site where fans and collectors can obtain authentic celebrity autographed memorabilia. New items are up for bid every day and include signed memorabilia items from actors and actresses, musicians, models, political leaders, artists, authors and more.
For more information on AutographStore.com's celebrity autographed memorabilia, please contact:
Michael Tobin
Autograph Store Auction Manager
http://www.autographstore.com
646-544-1355
# # #